Finally today, the iPhone Dev-Team released the method to downgrade back iPad 3, iPad 2, and iPhone 4S with the help of SHSH Blobs to older iOS in order to have the Untethered Jailbreak back again. This downgrade method works with the latest redsn0w v0.9.11b1. Now finally you can downgrade your iPad 3, iPad 2 and iPhone 4S to iOS 5.1 and iOS 5.1 with the help of Redsn0w 0.9.11b1. This version of Redns0w was teased by @MuscleNerd few days back on his Twitter account and today he finally released the new version of redsn0w.
Now, the new version of Redsn0w 0.9.11b1 is out, so we will guide you on how can you downgrade your iPhone 4S, iPad 2, and iPad 3 from newer iOS to older iOS version below. Before we proceed on with this method make sure that you don't rely on an Unlock on your iPhone 4S. If you are Unlocked using SAMPREF method on your iPhone 4S, then only proceed with the method because you will still be able to unlock you iPhone 4S with the help of Jailbreak when downgraded.
The reason we are telling unlockers to stay away from this update is because this method first updates your iPhone, iPad to latest iOS 5.1.1 and then downgrades to older iOS. In this process the baseband is definitely updated for iPhone 4S, iPad 3, and iPad 2 users. After the update is completed, then the downgrading work starts. Do remember that once the baseband is updated, there is no way to downgrade it. You will also need SHSH Blobs in order to make this method work.
If you have read the above terms and conditions, then follow on below to downgrade your iPad 3, iPad 2, or iPhone 4S from iOS 5.1.1 to 5.0.1.
Steps to follow:
Step 1:
First of all download the following things from our Software's You Need Page:
Redsn0w 0.9.11b1 for Windows or MAC
iOS 5.1.1 for (iPhone 4S,iPad 3, iPad 2)
iOS 5.0.1 for (iPhone 4S, iPad 2, iPad 3) (iOS 5.0.1(9A406) version is not yet supported)
Download the IPSW for the iDevice you want to downgrade. To make this method work, you need two IPSW's for your iDevice with SHSH Blobs must be saved previously.
Step 2:
Open Redsn0w 0.9.11b1 and navigate to Extras.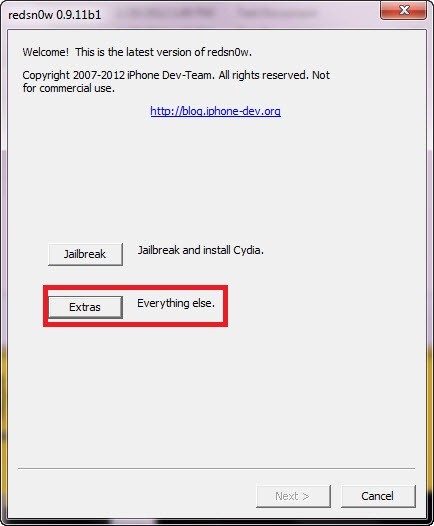 Step 3:
Now go into Even More Options. Over there you will an option of Restore. Press that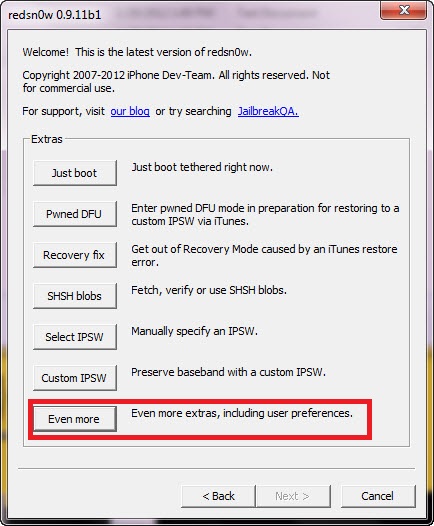 Step 4:
After pressing restore, you will get 3 options out them you will be able to only select one option that would be of IPSW. Press that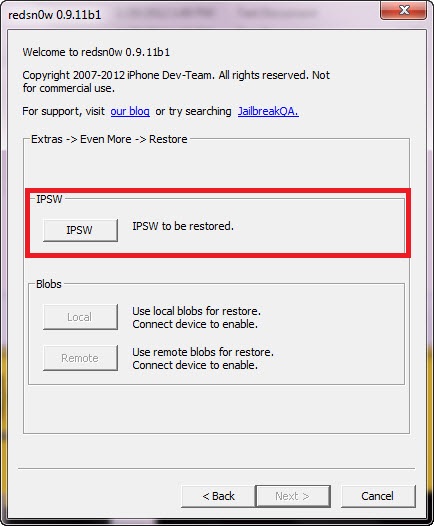 Now browse for the IPSW of the firmware you want to downgrade on.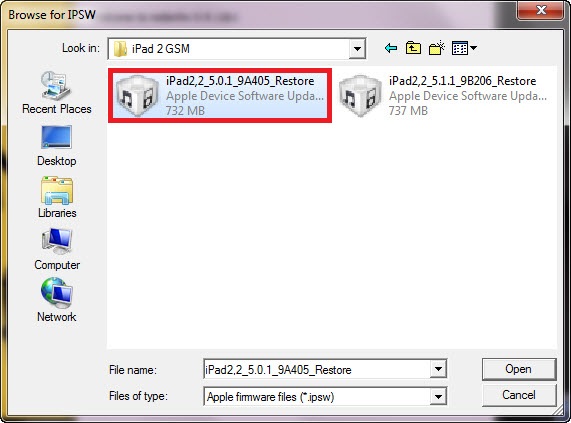 After that choose the latest one that will be iOS 5.1.1.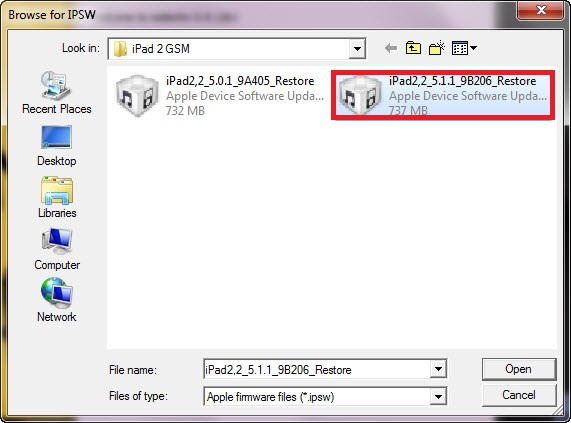 Step 5:
Now enter your iDevice into DFU Mode or it will go into Recovery Mode by its self.
When it is in recovery or DFU Mode, you will get two more options in the section of Blobs.
Local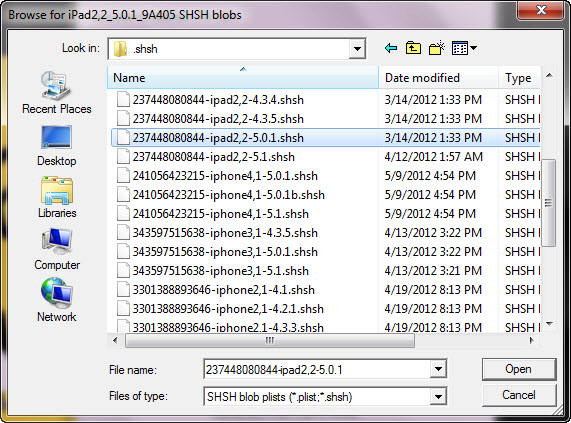 2. Remote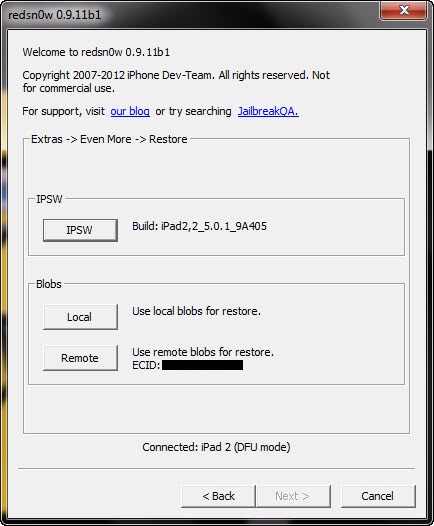 Now, choose the option of Local only if you got SHSH Blobs saved from Cydia on your computer with the help of Tiny Umbrella or if you want to grab the blobs directly from Cydia, then go to Remote.
Step 6:
After choosing the method, Now sit back and relax. The work has started on your iDevice and it will take about 10-15 minutes for the procedure to get completed. Everything will be done in redsn0w 0.9.11b1. You don't have to do anything by iTunes.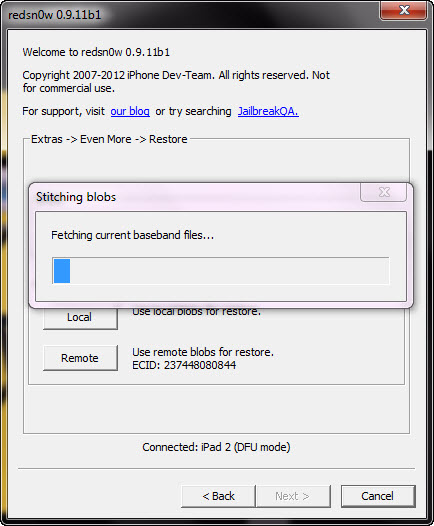 Step 7:
When it will be done, it will show you a message of done and you will be on previous iOS 5.0.1.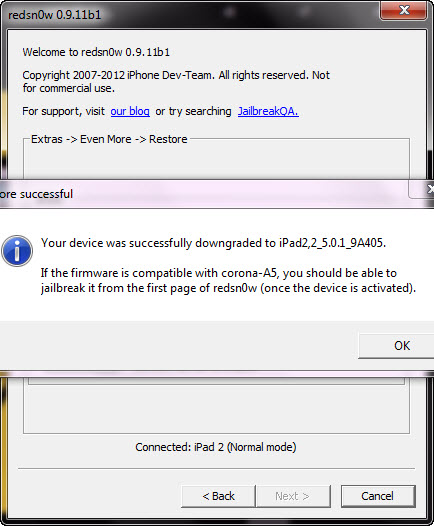 If you are facing any sort of Problem regarding this Downgrade Method, Feel free to contact us and get the problem solved.
Comments
comments