Today at WWDC 13 Apple introduced a feature called Activation Lock in iOS 7 to increase the security of iPhone/iPod/iPad. This new feature of Activation Lock will not be released separately for the iDevices; indeed the already released application of FindMyiPhone would be updated in iOS 7 to support this new feature. The main purpose of Activation Lock is to protect the iDevice from being activated after it is wiped off remotely using FindMyiPhone application for PC and MAC. It also protects the turning off FindMyiPhone feature in iDevices.
The moment a person/thief will try to turn this feature off or will attempt to activate the device after it is remotely wiped out, this feature of Activation Lock will come in action and will prompt the person to enter in the official iCloud details to proceed on with the activation of the iDevice. In other words, we can say that it will require Apple ID and Pass to activate the iPhone back. If the user fails to provide the ID and Pass, then he can either throw away the iPhone or hand over the iPhone to police because the iPhone would be useless for him.
If a thief tries to turn off find my iPhone, or wipe the device entirely, they will not be able to reactivate it- Craig Federighi, Senior Vice President Software Engineering.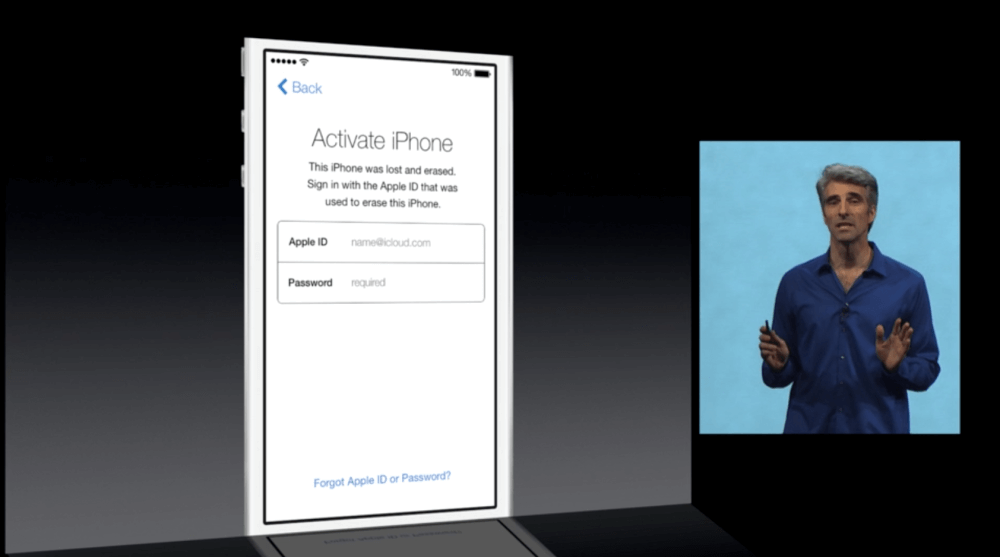 The integration of this new feature would be made some time in fall when iOS 7 would be release for General public.
The main reason behind tightening the security of iPhone's in iOS 7 is not that Apple loves its customers more than its money. The main reason behind tightening the security in iOS 7 by adding Activation Lock is the Smart Phone Summit to be taken place by government officials of US on June 13, 2013. The Government officials have called Apple, Google and others to a "smart phone summit" to study about smartphone-associated crime in NYC and the rest of the country. The district attorney and state attorney have asked the smart phone manufacturing companies to come up with a solution to stop the increment in smartphone street crimes that have taken a great pace these days.
Therefore, Apple has played its move by announcing Activation Lock iOS 7 version by saying,
"your iPhone is still your iPhone. No matter where it is"
"If you don't have an iPhone. So you don't have an iPhone"