Everything is being done on a slow pace by Apple in this fast moving era of technology. At first Apple used to release new iOS Beta versions after two weeks of the preceding launch and these days, Apple is not in the mood to follow the previous trend of releasing the iOS Beta versions after two weeks. No doubt, it tool Apple sometime to release the future of iOS with limited number of builds, but as soon as the iOS 6 arrived, rumors started to appear on the internet claiming about iOS 6.0.1 for a fix for iOS Maps that were screwed in iOS 6.
Eventually, we did saw this widely speculated iOS 6.0.1 build with a new version of iOS 6.1 Beta 1 making an appearance before iOS 6.0.1 could debut. It was highly expected that the issue of Maps would be resolved in this iOS 6.0.1. Unfortunately, the issue persisted. After getting iOS 6.1 Beta 2 Build on October 1, we cam across a strange news flying over the internet like a free bird that Apple has made some improvements to its own Maps App for iOS.
However, later today after a month and a half, Apple realized that they need to launch the third version of its iOS 6.1 beta that is iOS 6.1 Beta 3 with no such major changes.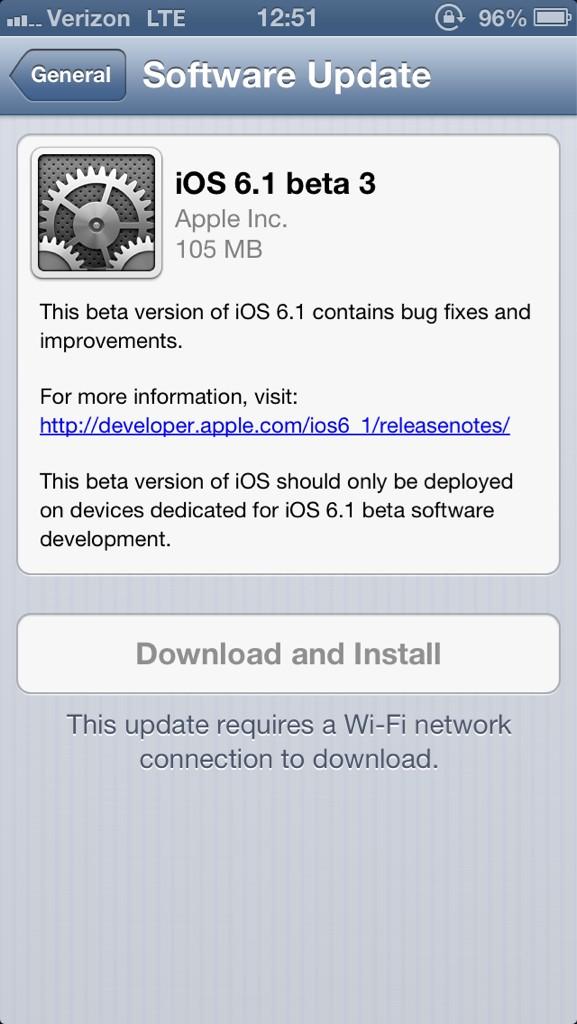 The major changes made in iOS 6.1 were done in its first Beta version. The MapsKit was improved and SIRI functionality was improved as well in the first beta of iOS 6.1. Other than these two changes, no such major changes have been noticed in iOS 6.1 beta 3.
As this build is limited to developers only, therefore the developers can head over to Dev-Centre from here and download the iOS 6.1 Beta 3.
Those who don't have the Developers Account should wait for us to find and post some working links.
Download iOS 6.1 Beta 3 Direct Download Links: