The trend of the mobile phone industry seems to be changing from smaller displays to larger displays. In the preceding months, Apple released an iPhone 5 with a taller display of a 4-inch. Following the launch of the iPhone 5, Samsung released small brother of the Galaxy S3 Flagship called Galaxy S3 Mini with a 4-inch display. However, the Galaxy S3 is packed with a 4.8-inch Super Amoled Display, but still Samsung announced a Mini Galaxy S3 with a 4-inch to compete with the iPhone 5. Soon after Galaxy S3 Mini was launched, we started to hear about Samsung Galaxy S IV. The rumors are very skeptical when it comes to mobile industry.
After releasing three different, smart phones in preceding months with different screen sizes of 4.0-inch, 4.8-inch, and 5.5-inch; Samsung is now planning to take the smart phone lineup to next level. This time the screen size with resolution would be changed. As we know that the smart phone industry is planning to move on to bigger screens of 4-inch and greater, where as Samsung is planning to reach the level of a 5-inch screen with 1920X1080p resolution.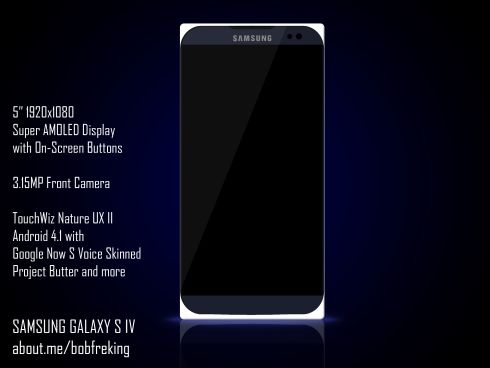 (Concept of Galaxy S4)
The reports of this major innovation to be made by Samsung comes from Asia Economics reported by BGR about Samsung future plans of increasing the screen size from traditional 4.8-inch to 5-inch and moving the screen resolution from 720p to 1080p. The Galaxy S4 Release Date is set for Annual Consumer Electronics Show that will take place in January 2013. No specific time or date has been announced for the event to take place.
Asia Economics reported on Friday that Samsung is planning to introduce a smartphone with a large 1920 x 1080 resolution display at the annual Consumer Electronics Show in January.  
Other than the name and size of Galaxy S4, the smart phone is said to be the Flagship of Galaxy S series having a 5-inch HD Super AMOLED Display that packs with 441ppi (pixels-per-inch).  This means the Korean company is in full swing to beat the Apple's iPhone Market because the latest Apple Gadget is packed with 326ppi (Pixels-Per-Inch) and the display is called the Retina Display.
Samsung is going to combat the traditional Retina Display of Apple by delivering a 5-inch Full HD AMOLED Display with 441ppi. The real competition starts soon after the Galaxy S4 is launched. It is believed that Samsung Galaxy S4 will be packed with quad-core Exynos processor and 4G LTE capabilities.
As for now it is very early to state anything regarding this rumor because Samsung has denied all the rumors regarding the Galaxy S4 Release Date and regarding any Galaxy S4 is in production by them or they have planned to release any new version of their Flagship series.