After few hours, the date will change to 23rd March 2012 when the New iPad will go into 23 more countries to welcome the impatient users of Apple. Like before everyone lines up outside the Apple store from days before the launch of any new Apple product. This time also many of you would be lined outside the Apple Store other than U.S.A and nine other countries in which the New iPad got launched this Friday. The other 23 countries mentioned by Apple are:
The New iPad will launch in Austria, Belgium, Bulgaria, Czech Republic, Denmark, Finland, Greece, Hungary, Iceland, Ireland, Italy, Liechtenstein, Luxembourg, Macau, Mexico, The Netherlands, New Zealand, Norway, Poland, Portugal, Romania, Slovakia, Slovenia, Spain and Sweden.
The sale will start on March 23, 2012. At some places, the dates have changed to March 23, 2012, and people are waiting outside the Apple Store to start the sale. Jordan Golson of Macrumors has shared a picture of the New Zealand Apple Store where people are lined up for the New iPad sale.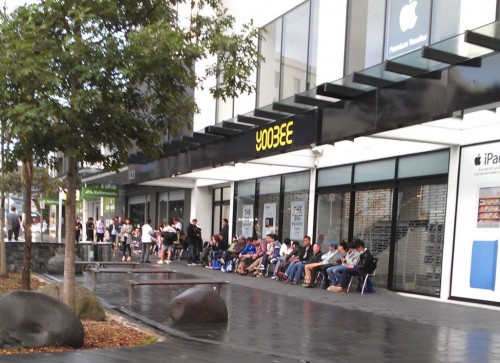 We believe that it is already time in New Zealand for the launch of the iPad 3. Following the launch of iPad 3 in New Zealand, it will cover all the 23 countries mentioned above. The pre-orders of the iPad will be delivered in a week or two-time span following the official launch. Now we will have to see that how much does the total sales of the iPad counts after the launch of iPad 3 in 23 additional countries. The most recent phenomenal iPad three sales made a new record of 3,000,000 sales in just four days of its launch.