Almost every one of you having an iPhone must be aware of the awesome tweak called SBSettings, the Jailbreak Tweak from Cydia by which you can do amazing things by just one swipe. You can put on many actions using Activator, the part of the Tweak and you can restart your iPhone, power off it, respring it, and you can do much more than you ever expected from an iPhone. SBSettings these days is a great helper for iPhone competing with its competitor Tweak called BBSettings. BBSettings provides more function than the SBSettings; still some of the people are very compatible with SBSettings.
Like this, Marriellen Sheridan, the developer inspired by this Jailbreak Tweak called SBSettings made a same App for MAC OS X called Quick Toggles, that allows a user to have some of the matching functions on their MAC OS X, like they have on their iPhone with SBSettings. Not all the features of SBSettings would be found in this App because it has just been released two days back and a lot of work will be required to integrate all the same functions as SBSettings for MAC OS X.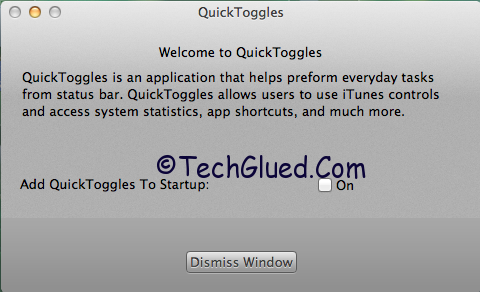 Anyhow the App, Quick Toggles allows you perform complex tasks in an easy way with the help of a simple click in the status bar. With Quick Toggles installed on your MAC OS X, you can do many things like show IP Address of the Network you are connected on, CPU Stats, RAM Stats, App Shortcuts, see System Information, control iTunes, and much more.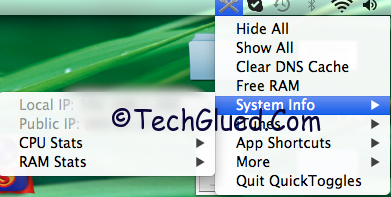 Quick Toggle allows you free up the RAM that is not in use, also allows you to clear the DNS Cache, got the dedicated iTunes button by which you can play, skip, pause a song, and it got App Shortcuts for those App, which we use, in our daily busy life. The Apps are, Mail.App, Internet, System Preferences, and Text Edit.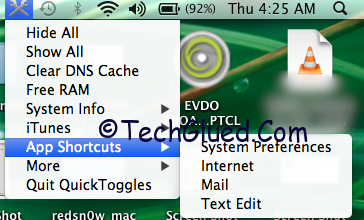 You get all the settings under one icon of Quick Toggles for your MAC OS X.
The App was released on 14th of May and we may consider it in its beta stages. We hope that the future update of this App brings more new features in the App for the MAC OS X.
The App costs $2.59 in the New Zealand MAC App Store. You can download the App from MAC App Store from here.
Before you plan to buy this App, you can see the video of this App in action of MAC OS X:
Video:
http://youtu.be/7VFgO_noqPQ?hd=1
If you have purchased it or willing to buy it, So do let us know about your experience with this Quick Toggle for MAC.