Recently the U.S East Coast got affected with a Hurricane Named Sandy. Many people got homeless and many died in that Hurricane Sandy. Hurricane Sandy was one of the most worst and dangerous Hurricane to strike the East Coast of the U.S. it did so much damage in few hours of strike that no other storm did previously. This storm, Hurricane Sandy did a loss of Billions of $. In order to sum up the loss and help the victims of this hurricane Sandy, American Red Cross is working day and night to over come the loss made by hurricane sandy.
To help the relief work, Tim Cook, the C.E.O of a Tech Giant company Apple donated the sum of $2.5Million to American Red Cross for the relief work of Sandy victims. This new of donation comes from 9to5mac that shared the donation letter sent to them by an Apple Employee regarding the donation made by Apple for the relief work.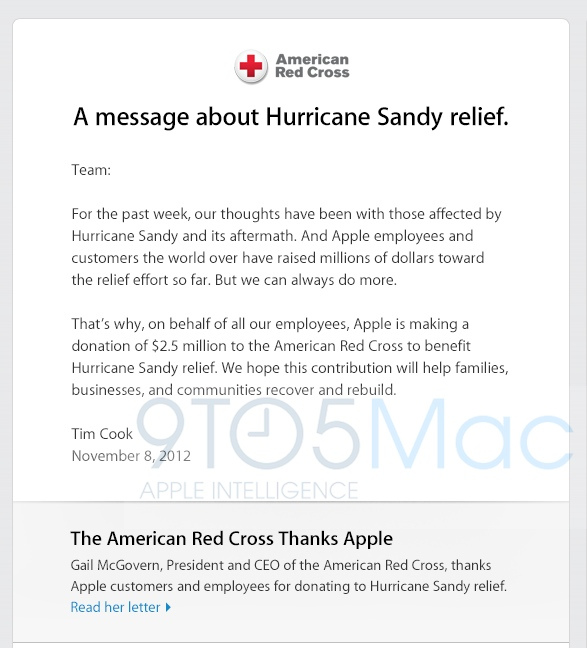 Team:

For the past week, our thoughts have been with those affected by Hurricane Sandy and its aftermath. And Apple employees and customers the world over have raised millions of dollars toward the relief effort so far. But we can always do more.

That's why, on behalf of all our employees, Apple is making a donation of $2.5 Million to the American Red Cross to benefit Hurricane Sandy relief. We hope this contribution will help families, businesses, and communities recover and rebuild.

Tim Cook
November 8, 2012
As Apple has played its role by donating the sum of $2.5Million to American Red Cross, you can also join the donation league and help American Red Cross by donating a certain amount of money directly to them by sitting at your home.
How can you donate to American Red Cross for Sandy Relief Work?
Apple has made a page in the iTunes Store that directly links to the American Red Cross donation panel. The link can be viewed here.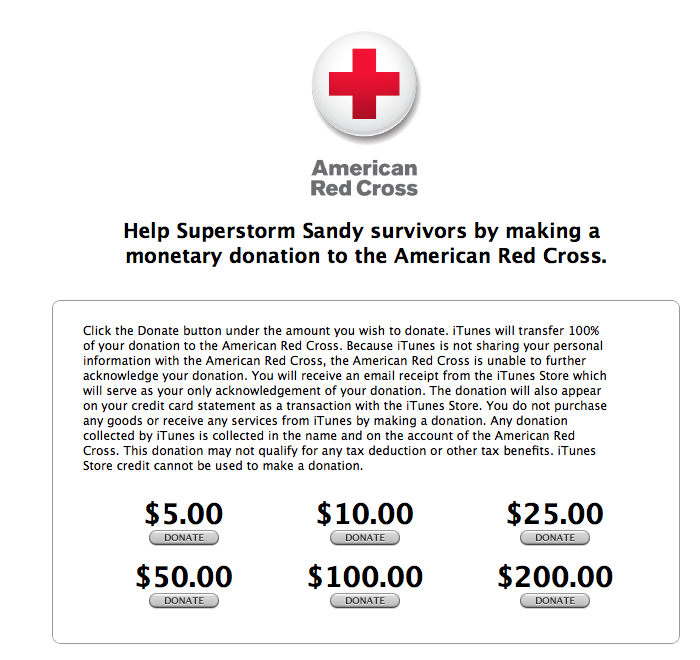 When you will press the above link, a page in iTunes will open like shown in the picture above. After that all you need to do is just press on donate on the amount you feel like donating. The donations start from $5-$200. The donations will directly go to the American Red Cross for the Hurricane Sandy Relief work. Apple is just working as a bridge for the relief funds for the American Cross.