Smartphones of today's world run on different operating systems, but the main 3 names that are found when looking up in smart phone "OS" is Android, iOS and Widows. These three have been around for quite some time. All three are leaders of the smart phone world and all three are backed by powerful companies. Android made by Google, iOS made by Apple, and Windows Made by Microsoft. Today we're going to compare these mighty OS's to see which outperforms the other.
Android vs iOS vs Windows
Interface Difference: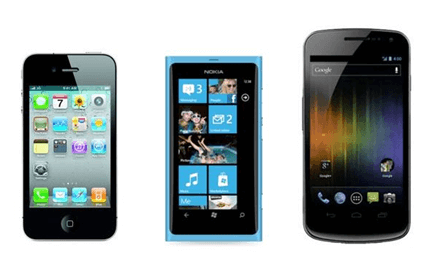 Windows:
As opposed to setting up various apps on specific grids like in Android, Windows Phone 8 allows for a consistent, scrolling set of boxes that bombard the user with information.
Android:
Stock Android offers the most customization ability by allowing you to set live wallpapers, make widgets and fill icons according to your preference. What is great about this particular platform is that if you dislike the stock experience, the Play store has hundreds of other launchers that completely change the look and feel of an android phone.
iOS:
iOS has a minimalistic interface. While it may not offer much customization, its streamlined interface is simple to use and allows for speedy control over the phone.
Extra Features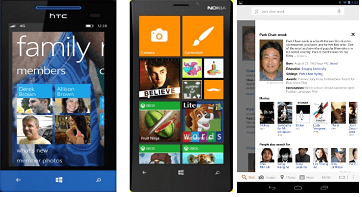 Windows:
Windows Phone 8 offers many interesting features such as Data Sense, which not only monitors data but also compresses the data sent and received, saving you money. It also has a new mode called "Kids Corner" that creates a child friendly sub-account.
Android:
Android has a host of features, with the newest being Google Now and knowledge graph that helps Android be more efficient at being a personal assistant.
iOS:
iOS offers new features such as an updated notifications panel and a finalized version of SIRI that is supposed to be more efficient and have a new, life-like voice.
Camera

The Camera app is one of the most widely used apps in the smart phone world.
Windows:
Windows Phone 8 camera uses Pinch to zoom and the ability to take photos by tapping the screen, which makes the app feel a little more natural. There are also 'lenses', that allow you to use camera tools that you have downloaded within the app, rather than a separate app.
Android:
Android's camera is constantly updated, but nonetheless, with the different OEMs, each camera app is different. The stock app on its own is purely simple, but offers features such as ISO, brighten and contrast adjusting as well as a swipe based controls.
iOS:
The iOS 7 brings in a bucket full of changes to the camera app. There aren't many deep changes, aside from photo effects but there are varying lens shapes and live photo filters that give you an Instagram look without having to use the app. Aside from that, the camera app is generally very swipe friendly.
With Windows still having much to catch up on, Android providing smaller updates and Apple finally catching up on the latest trends, it seems that these software are tied. This is mostly because each offer something different to the table and it is up to the user to see which flavor of smart phone he or she likes.
Do let us know about your opinion regarding Android vs iOS vs Windows. What do you think is good and worth it to go with as an OS.