In this fast moving era of technology, where leaks arrive faster than official launch and the thing that is going, to launch gets unveiled before the launch. This is such a great era. In this same era, the tech giant company of Cupertino, Apple is highly affected by the above stated things. Specially, the above stated things only happen with Apple products, not every product, only specific iPhone, iPod, and iPad series. We can say that this is a tradition of Apple products to be leaked in wild before the official launch. Same thing happened with the iPhone 4 and now the history is going to repeat for the iPhone 5.
Today, an iPhone 5 working Model escaped from Foxconn, Jincheng Factory with iOS 6 in it. The report comes from a Chinese Tech Media called Vgooo.com who broke the news of the iPhone 5 with iOS 6. According to the report, a tipster told the Chinese Tech media that he went to the Foxconn Factory of Jincheng to meet this friend. Over there, he found out an Apple iPhone 5 Prototype. When he got his hands on the Apple iPhone 5 prototype, he could feel the iPhone 5 is thinner, and it has a large screen of 4-inch.
Without wasting his time, he quickly took some shots of the Apple iPhone 5 and made a video instantly in comparison with iPhone 4S. In the video, the tipster booted the iPhone 5 that showed iOS 6-setup screen. You can see the video below.
Apple iPhone 5 Video:
the most interesting part in the video is of the iOS 6 activation cannot be done because the device is not registered with Apple's Developer Program.
"This device is not registered as part of the iPhone Developer Program. If you are a member of the program, please register your device in the @@url@@."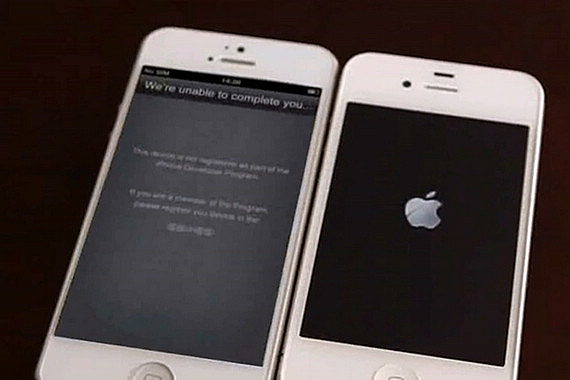 Apple iPhone 5 Gallery:
This leaked design of iPhone 5 seems a lot similar as of the preceding leaked prototypes of the iPhone 5. This new leak of the iPhone 5 prototype just few days before the launch made us go in doubt. Apple might release the same version of the iPhone 5 this year.
via(MIC Gadget)