The mimics about the iPhone 5 release date are on the verge. Every one is curious to know about the iPhone 5-release date. The previous rumored date of the iPhone 5 releases was expected to September 21 for the first wave. Right after two weeks of the announcement, the iPhone 5 would go on sale. The announcement of the iPhone 5 was expected to be on September 12 that is now official. Apple has issued Media Invites for an upcoming event on September 12. Therefore, everything is now official, other than the leaked iPhone 5 designs and rumors. We can count in the 4-inch screen as confirmed.
Following all the iPhone 5 leaks closely, today iSheildz jumped into the scene stating the iPhone Release date to be September 21. iSheildz is the iPhone's accessories supplier who pointed out towards leaked screenshot of inventory management pointing out the iPhone 5 accessories to ship before September 21 and they will be on sale on the same rumored date.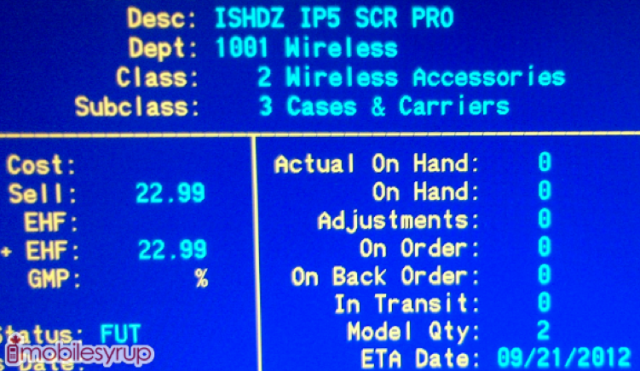 The above leaked image posted by mobilesyrup shows that iSheildz would be selling iPhone 5 front protectors on September 21. The leaked document states ISHDZ IP5 SCR PRO" for $22.99 with Estimated Time of September 21. However, the leaked document doesn't confirm the iPhone 5-release date of September 21.
However, we have some contradiction on this new statement of iPhone 5 front protector arrivals on September 21. We have previously shown you the first front screen protector that was leaked in the preceding month of August. The leaked front protector showed the same centered FaceTime Camera with a bigger display. This means, the iPhone 5 Front Protectors are in production and might be released the same day on which the iPhone 5 debuts or the release can be made in preceding days. The release of the front protector with iPhone 5 sounds legit to us.
now awaits the golden moment of the Media Event, when Tim Cook will take the stage to announce the iPhone 5 with sales starting September 21.