Samsung is one of most competitive rival of Apple since the introduction of iPhone in 2008. Samsung always try to stay ahead of Apple iPhone technology by introducing such features that would take sometime for Apple to announce or Apple cannot announce in its iPhone due to some limitations or restrictions. The first example we can take of Samsung staying ahead of the iPhone is of the screen size. Samsung in its flagships had increased the size from 4-inch to 5-inch timely, where as Apple in its iPhone 5 increased the screen size to 4-inch only.
Other than this, Samsung announced many new features like NFC (Near Field Communication) in its Flagships and Apple haven't announced or willing to add NFC in its upcoming iPhone series. When iPhone 5 was rumored to debut in June at WWDC 12, the speculations regarding NFC compatibility made headlines around the Internet. However, after the launch of the iPhone 5, no NFC was spotted in the iPhone 5. It was said that Apple might announce NFC in iPhone 5S, on which Samsung picked on Apple by making an Ad portraying the use of NFC by bumping the phones together and the iPhone user was looking their faces. Upon asking the guys in the Advert that what was it? They said don't u have one, may be you will get in the next hardware release.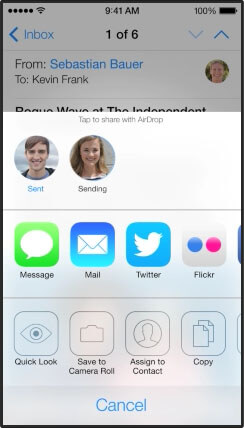 The pick done by Samsung on Apple over NFC seemed to be legit until iOS 7 Beta 1 arrived at WWDC 13. The same WWDC 13 where Craig picked on Samsung stating,
" If you want to share with multiple people, you just need to tap, tap, tap. No need to wander around the room bumping your phone with others".
This smart move made by Craig in iOS 7 Beta 1 while showing off Airdrop feature made the audience ROFLING.
On the same end, Apple hinted towards a NFC free iPhone 5S (may be) because Airdrop feature is more advance than NFC (No One Fucking Cares). If Apple continues this feature of Airdrop in iOS 7 and makes it more appealing, then we don't think that there would be any need of NFC in the iPhone 5S.
If Apple introduces NFC in the iPhone 5S, it would be due to payment gateways or so. Otherwise, we don't think that Apple is going to introduce NFC after Airdrop feature in iOS 7.
Hence, Apple might pour water on Samsung's dream of NFC coming to the iPhone 5S. Now Samsung needs to grow up from NFC and would have to come with something new to compete Apple over Airdrop feature.