Few weeks after the release of iOS 7.0 for iPhone/iPod Touch/ iPad for Public, Apple today released iOS 7.0.2 for iPhone/iPod Touch/iPad with lock screen security issues fixed. The first security flaw in iOS 7.0 allowed a user to unlock the iPhone/iPod Touch/iPad and access its contact/personal information. Then the second security flaw allowed a user to call some one using the emergency mode.
This was a strange bug in iOS 7.0 that allowed a hacker/person to make a call with a locked iPhone using emergency call method.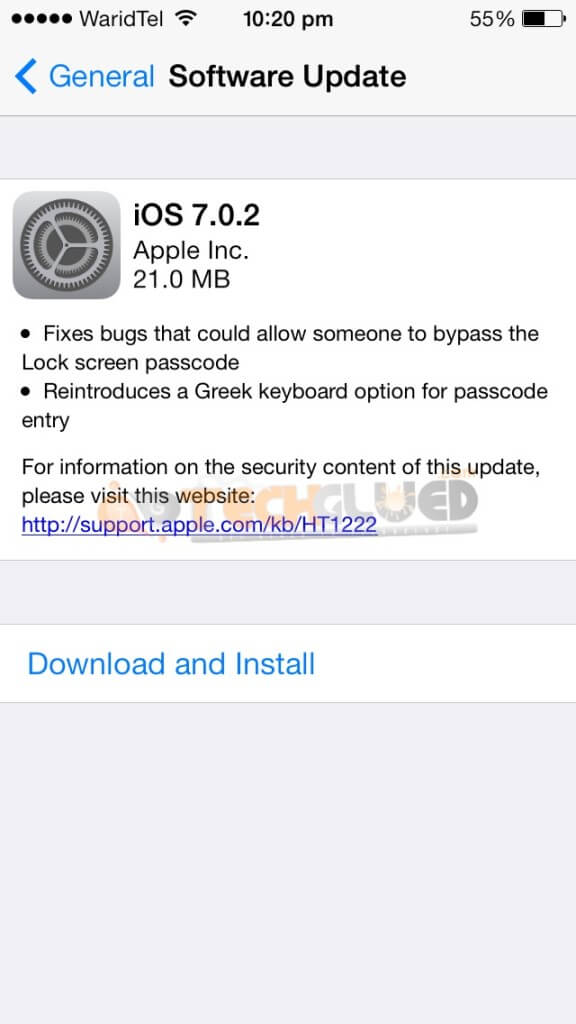 It was heavily expected that Apple will release iOS 7.0.1 to address these issues and other issues, but Apple didn't released iOS 7.0.1, instead it released iOS 7.0.2 because it had released iOS 7.0.1 for the iPhone 5S and iPhone 5C to address some issues and bugs fixed.
However, there are some issues that need to be fixed and looked into by Apple some time soon and it is expected that Apple will release a new update of iOS 7.1 next month.
Download iOS 7.0.2:
| | |
| --- | --- |
| iPad2(wifi) (iPad2,1) | 7.0.2 (11A501) |
| iPad2(at&t) (iPad2,2) | 7.0.2 (11A501) |
| iPad2(vz) (iPad2,3) | 7.0.2 (11A501) |
| iPad2,4 (iPad2,4) | 7.0.2 (11A501) |
| iPad2,5 (iPad2,5) | 7.0.2 (11A501) |
| iPad2,6 (iPad2,6) | 7.0.2 (11A501) |
| iPad2,7 (iPad2,7) | 7.0.2 (11A501) |
| iPad3,1 (iPad3,1) | 7.0.2 (11A501) |
| iPad3,2 (iPad3,2) | 7.0.2 (11A501) |
| iPad3,3 (iPad3,3) | 7.0.2 (11A501) |
| iPad3,4 (iPad3,4) | 7.0.2 (11A501) |
| iPad3,5 (iPad3,5) | 7.0.2 (11A501) |
| iPad3,6 (iPad3,6) | 7.0.2 (11A501) |
| | |
| --- | --- |
| iPhone4 (iPhone3,1) | 7.0.2 (11A501) |
| iPhone3,2 (iPhone3,2) | 7.0.2 (11A501) |
| iPhone4(vz) (iPhone3,3) | 7.0.2 (11A501) |
| iPhone4S (iPhone4,1) | 7.0.2 (11A501) |
| iPhone5,1 (iPhone5,1) | 7.0.2 (11A501) |
| iPhone5,2 (iPhone5,2) | 7.0.2 (11A501) |
| iPhone5,3 (iPhone5,3) | 7.0.2 (11A501) |
| iPhone5,4 (iPhone5,4) | 7.0.2 (11A501) |
| iPhone6,1 (iPhone6,1) | 7.0.2 (11A501) |
| iPhone6,2 (iPhone6,2) | 7.0.2 (11A501) |