Following the tradition, Apple has taken down its Apple Store ahead of today's event to load new pages portraying iPhone 5S and iPhone 5C details. The Apple Store will come back after the event is finished with new hardware announcements. The launch of the new iPhone 5S is heavily expected because iPhone 5 is one year Old and some one new with upgraded hardware have to take its place. Therefore, Apple will be giving the name of iPhone 5S to the new model that will be taken over iPhone 5.
Other than the release of iPhone 5S, iPhone 5C, a new variant called low-cost iPhone is also rumored to arrive today at the event with multiple colors. At first, we were skeptical about this new variant of iPhone brotherhood called iPhone 5C because we were hearing many rumors regarding this in the upcoming months starting from June or May.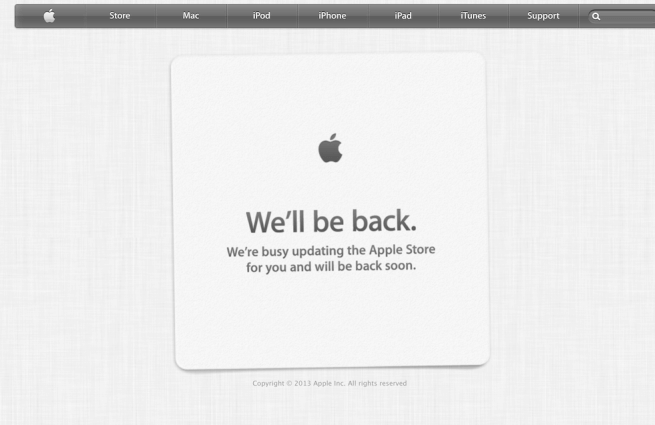 Back in April 2013, when we reported about the iPhone 5S Launch in multiple colors, the name of iPhone 5C was not even near the rumors firing line. Suddenly after May, iPhone 5C reached rumor firing and went out on the Internet like fire in the Jungle.
Shedding some light on our previous report of iPhone 5S in Multiple Color, we told you that iPhone 5,1 variant might come in three colors that are Black/Slate, White/Silver, and the third one was unknown. However, these days the third color is called Champagne or Gold color iPhone. Where as, the iPhone 5C will debut in iPod Touch 5 like color scheme.
In order to see the old, new, and confirmed speculations, you would need to wait for about two hours and few minutes because Tim Cook is going to take the stage to brighten ever one's day.