Cutting the edges of rumors, speculations, and leaks, Apple has now officially confirmed everything by announcing September 10, 2013 Media Event. As we know Apple from the beginning, everything is ousted as Rumors, Leaks, Speculations, and later on, they are converted in official release by Apple.
Following the same trend, Apple has issued September 10 Media Invites for the Media Personal to come and see what they have been cooking since WWDC 2013. We all know that iPhone 5S and iPhone 5C with multiple colors is going to arrive because new color scheme iPhone's were set to arrive in July, 2013, but we didn't saw any of them arriving because they were scheduled to arrive at official time of September 10, 2013.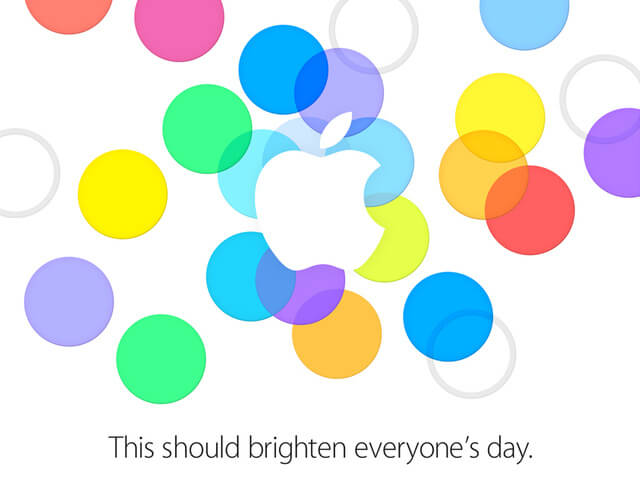 This should Brighten Every One's Day.
Cutting the long story short, we all know that iPhone 5S and iPhone 5C would be making an appearance with multiple color schemes that is now further confirmed by the above invitation sent out by Apple.
The Tech Giant loves to hide a message in its Media Invites and loves to tease people with the hidden message until the official event or thing isn't released. Amazingly, people start cracking the Media Invites by making guesses based on rumors and leaks.
Doing the same thing, we can confirm that iPhone 5S or iPhone 5C would get Multiple Color Scheme because the Media Invite has several different colors and the color Champagne is also present in there. The presence of Champagne Color confirms the rumor of iPhone 5S Golden color Scheme.
Moreover, the tagline also hints towards the arrival of bright colors with iOS 7 and OS X Mavericks Launch.