With the release of iOS 7 for public on September 18, 2013, many people using iPhone/iPod Touch/iPad updated their Devices happily on to the new iOS 7 Version to explore new features added by Apple. Somehow, the response was quite amazing on the release day of iOS 7, but some percentage of users were disappointed by the iOS 7 UI, Design, and the look of big icons because it was giving a pathetic Look on their Device.
Somehow, the criticism of people is not new regarding iOS 7 because we have seen the same criticism related to iOS 7 on its Beta 1 launch day or we can say that when Apple announced the arrival of iOS 7 on its WWDC 13. At the time of iOS 7 show off, many people criticized the design of iOS 7 Icons as they were larger than previous icons and people were having a hard time adopting the new design.
As of today, iOS 7 is now live and released for public. Therefore, people have got two options, either to update or downgrade iOS 7 to iOS 6.1.3 /6.1.4 before Apple closes the window and makes iOS 7 as an official update for every new restore.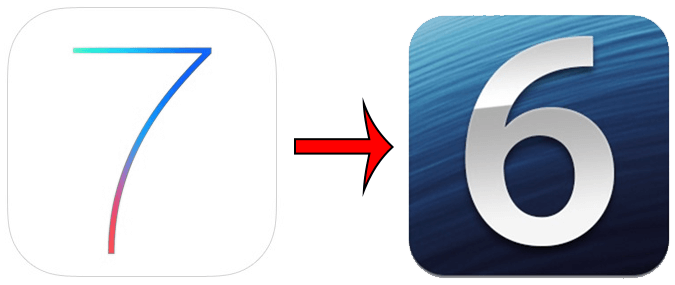 Without wasting any time, we would start with the guide of downgrading because Apple is quick in closing the window of Downgrading procedure. This time Apple might allow sometime for Downgrading iOS 7 to iOS 6.1.3/6.1.4 because iOS 7 its self has some bugs that will be fixed in the next iOS 7.0.1 update.
How to Downgrade iOS 7 to iOS 6.1.3/6.1.4 on Windows:
Step 1:
First, download the following things in order to make the downgrade a success.
Download iTunes 11.1 for Windows.
Download iOS 6.1.3 or iOS 6.1.4 (Depending on the iPhone Model you got. IOS 6.14 would be required for iPhone 5 users.)
Step 2:
Make sure that you are on iOS 7 and you want to downgrade it to iOS 6.1.3.
Step 3:
Fire up iTunes 11.1, then connect your iPhone/iPod Touch/iPad and wait for it to recognize the iDevice.
Step 4:
Now open iTunes and go into Device options.
Step 5:
After you are in device options i.e. the name of the iDevice on your iTunes, you will see the following options.

Step 6:
Now press "Shift + Restore" from the above option and it will ask you to browse the IPSW.
Even before that, it will ask you to turn off the FindMyiPhone from the settings to restore the iPhone/iPod Touch/iPad. In order to turn off FindMyiPhone, you need to visit the guide present here.

Step 7:
After you have chosen the downloaded IPSW version for your iDevice, the restore process will take place on your Device.
 How to Downgrade iOS 7 to iOS 6.1.3/6.1.4 on MAC:
In order to accomplish the same task on MAC, you need to follow all the steps until Step 5.
From Step 6, you need to follow the following step that is pressing of "ALT (Option) + Restore" on MAC to browse for the custom IPSW that you downloaded.
Rest every Step is the same as Windows.
In case, you come across any error like Error 3194 while Downgrading iOS 7 to iOS 6.1.3/6.1.4, don't hesitate to refer the following guide with all the errors and their solutions present here.