Sunday is a Funday. The history repeats its self. Today the Evad3rs released the most awaited Download iOS 7 Untethered Jailbreak for iPhone 5, iPhone 4S, iPhone 4, iPad Mini, iPad 3, iPad 4, iPad Air, and iPad Mini Retina. We have been waiting for this iOS 7untethered Jailbreak from long and the Evad3rs released the Jailbreak later today prior to Christmas.
Ho ho ho! Der iOS 7 Jailbreak ist da -> http://t.co/hxgr2Hq9tA – also: Frohe Weihnachten! (und Backup nicht vergessen!)

— Nikias Bassen (@pimskeks) December 22, 2013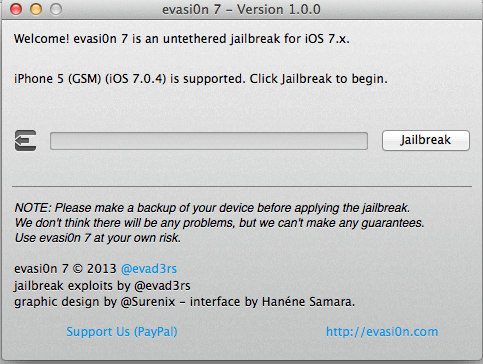 This newly released iOS 7 Untethered Jailbreak is easy to use as its previous version. We are currently downloading the iOS 7 jailbreak Tool and will Untethered Jailbreak our device/devices as soon as it is downloaded.
Therefore, you can Download iOS 7 Untethered Jailbreak from the official website of Evad3rs mentioned below.
Download iOS 7 untethered Jailbreak Tool for MAC and Windows form here.