Seeing an iOS 7 Untethered Jailbreak on Sunday while getting your day off and enjoying with your family might have shocked you or surprised your or might have made your day. The iOS 7 Jailbreak took about three or more months to appear in public because the team of Evad3rs was busy in making the tool perfect and finding the right exploits for the right job, that is to get the job done.
Amazingly, no one was sure or was expecting the iOS 7 Untethered Jailbreak to arrive this Sunday to make it a Funday because Apple has released iOS 7.1 Beta 2 and it might release iOS 7.1 some time later in December 2013 or January 2014.
Therefore, the question of iOS 7 Jailbreak was out-of-the-way and every one was sure that Evad3rs will release or talk about the Jailbreak sometime later after the release of iOS 7.1 by Apple. That's why people were not asking questions about the iOS 7 Jailbreak and were sitting patiently waiting for the Jailbreak to arrive with iOS 7 crisp and taste.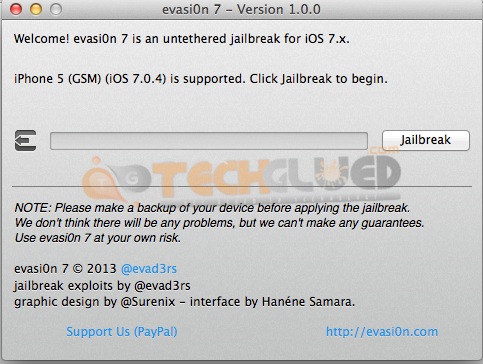 Later today, The Evad3rs suddenly updated the Evasi0n Tool to version 7 by adding the support for iOS 7 to iOS 7.0.4 knowing that iOS 7.1 Beta 2 is already dancing in developer's portal and might be released sometime sooner or later. But the Evad3rs released the iOS 7 Jailbreak before Christmas portraying it as a Gift for iOS Users.
At first, every one was happy to have Cydia on their Device because they were thinking that Saurik might have updated Cydia for iOS 7 i.e. a completely revamped UI of Cydia for iOS 7. Unfortunately, after installing Cydia on our Devices, the UI seemed to be the old one and no such changes were made to Cydia. Not even the icon was changed of Cydia. This was something strange and fishy because Saurik has updated Cydia in past according to new iOS releases and this time it was heavily expected that Cydia would be revamped for iOS 7, as it has a new UI by Apple.
Hours after the release of iOS 7 Untethered Jailbreak, Saurik, the creator of Cydia Tweeted on Twitter with an astonishing fact stating:
So, I got no lead time on evasi0n7, nor was I asked for an official iOS 7 Cydia; I was not given builds, nor was I asked for things to test.

— Jay Freeman (saurik) (@saurik) December 22, 2013
In fact, @evad3rs didn't even try my testing build of Substrate I gave core developers, so they didn't notice a fundamental incompatibility.

— Jay Freeman (saurik) (@saurik) December 22, 2013
According to a series of Tweets by Saurik on his official Twitter account stated a clear point that he was kept in dark by The Evad3rs prior releasing the iOS 7 Jailbreak and the team never tested the builds of Mobile Substrate that was given to core developers by Saurik. This is why Mobilesubstrate tweaks in Cydia are not working or might not work properly. The fix is on its way by the Evad3rs.
Why Saurik was kept in Dark for iOS 7 Untethered Jailbreak?
According to a user called Grugq on ycombinator claimed that a Chinese company paid a filthy rumored $1 Million to Evad3rs for the iOS 7 Jailbreak release as soon as possible with its sponsored Application in the Evasi0n Tool.
Well, the reason that the Cydia store doesn't work, and that Saurik wasn't included in the discussions, is starting to become clear. A Chinese company paid the evad3rs a rumored 1 million dollars for the jailbreak, forcing their own App Store onto the phone.
If the computer running the jailbreak has Chinese as the main language, then the Chinese 太极 (taiji) market app is install. Cydia is available as an option, but it is deselected by default.
Series of Proof:
@IngwiePhoenix very simple: evad3rs got big pile of money to by default bundle a chinese app store instead of cydia for chinese users

— Stefan Esser (@i0n1c) December 22, 2013
This chinese "sponsored" store explains everything: explains why suddenly they do not take donations anymore and become freedom fighters.

— Stefan Esser (@i0n1c) December 22, 2013
@i0n1c Yep ,a software named Taiji helper . cydia can B installed but can't be worked or opened successfully.

— Fan Liyuan (@Cre4t) December 22, 2013
Photo Proof
As of now we cannot say anything on the above stated proofs and cannot say anything on the rumored payment made to Evad3rs by a Chinese company. All we know is that @Pod2g will explain the whole story on Reddit soon.
We will soon post an article on reddit of the whole story, explanation and truth of evasi0n7! And there's a lot to say :) Stay tuned.

— pod2g (@pod2g) December 22, 2013