After the release of Baseband Preservation in Redsn0w, about every one of the Jailbreak users for got the tool that they used to use when there was no Redsn0w Baseband Preservation method. The same tool for which every one used to wait for it to get updated with the latest iOS support in order to update their iPhone with Baseband Preservation Method. The tool is called Sn0wbreeze. The same tool that was once popular among windows users was updated to support iOS 6.0/6.01 with the Tethered Jailbreak support and Baseband Preservation mode.
iH8sn0w the developer of Sn0wbreeze recently updated the Jailbreaking tool to version 2.9.7 to support the Tethered Jailbreak of iOS 6.0/6.0.1 on all A4 and old devices. This update of Sn0wbreeze doesn't include any new exploit or Jailbreak for newer Devices. Like always, the support for the iPhone 4, iPod 4, and iPhone 3GS has been made for iOS 6.0/6.0.1. As usual, the iPhone 3GS using Old Bootrom is Untethered for life. Therefore, people having an iPhone 3GS with an Old Bootrom can get Untethered Jailbreak instantly by using this version of Sn0wbreeze 2.9.7, where as new bootrom users have to wait until a firm exploit isn't found to Jailbreak Untethered iOS 6.0/6.0.1.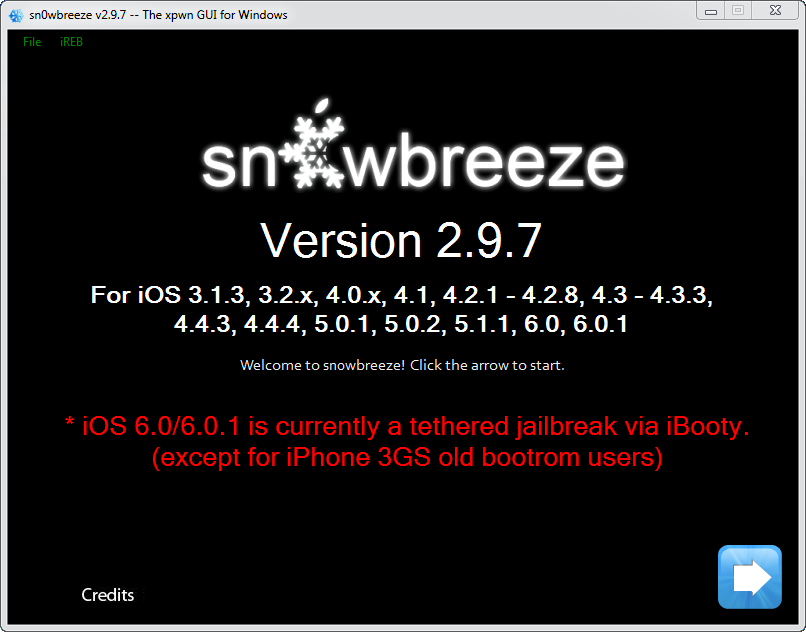 A part from this Tethered Jailbreak, the news regarding the Untethered Jailbreak is that P0sixninja, the Ex-Member of the Chronic Dev-Team is actively working on to find some bootrom level exploit for A5, A5X, A6, and A6X Chips. On the other hand, Apple is planning to release another iOS 6 update of iOS 6.1 that is in its beta stages as of now. Last month Apple released iOS 6.0.1 and soon after the public release of iOS 6.0.1, Apple released iOS 6.1 Beta 1 for Developers. Following the iOS 6.1 Beta 1 release in the preceding month, recently Apple released iOS 6.1 Beta 2 update.
Therefore, we shouldn't expect any Untethered Jailbreak coming real soon because Apple is planning to release iOS 6.1 that is almost around the corner. Like always, if the Untethered Jailbreak were released before iOS 6.1 goes public, then it would be patched in iOS 6.1 by Apple. Then again, we would have to wait for ages to get an Untethered Jailbreak. It is better to have some patience for the Untethered Jailbreak rather than panicking or asking from the Jailbreak Dev's about an E.T.A.
In the meantime, you can download Sn0wbreeze 2.9.7 (Windows Only) from here to Jailbreak Tethered on iOS 6.0/6.0.1.