Apple quietly pushed out an update to its Laptop market leader Retina MacBook Pro's with a minor hardware change and a sudden price drop on them. This time Apple didn't announced any Media Event to bring in this sudden change, thought they announced this change is a press release given out by Apple. In the press release announced by Apple, the prices of the Retina MacBook Pro 13" were slashed off by $199 including the 256GB model. The basic model of Retina MacBook Pro 13"used to cost $1699 and the 256GB was previously sold for $1999.
As of today, the new prices mentioned by Apple for the same basic and 256GB Retina MacBook Pro Models are $1499 and $1699. Other than slashing the prices on Retina MacBook Pro's, Apple has updated the processor of the Retina MacBook Pro's to 2.6GHz from preceding 2.5GHz. Now coming to the 15" Retina MacBook Pro Models, Apple claimed to make them faster than before by adding a new 2.4GHz Quad-Core Processor. The highest model of Retina MacBook Pro will be packed up with a 2.7GHz Quad-Core Processor and 16GB of RAM instead of 8GB RAM.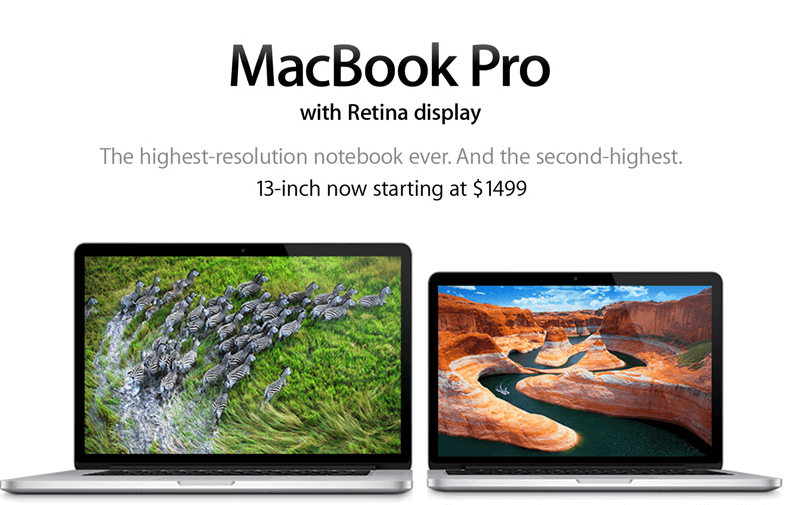 A part from Retina MacBook Pro, Apple slashed the price of Retina MacBook Air with 256GB by $99. After the price slash on Retina MacBook Air, the new price becomes $1399, where as the old price was $1499. The reason behind the price slash and update of the hardware is assumed to be improvement made by Apple in production techniques of MacBook With Retina Display.