Most famous iOS Hacker and Jailbreak Tool Developer, ih8sn0w today updated his tool called F0recast for Windows and MAC. The tool called F0recast is not any new Jailbreaking Tool or it doesn't adds any Jailbreak support the new iOS Version of iOS 6.0.1 or iOS 6.0.2. F0recast is a simple tool that allows a user to see the status of his iDevice with reference to Jailbreak, Unlock, Baseband, iOS Version, and all the details that a person needs to know a part from carrier checking service or unlock service. If we don't go into the details of this tool, we can say that the name of the tool is self-explanatory.
The name F0recast makes it clear that the tool is related to some prediction about the device and the device is no other than iDevice. Therefore, the tool clearly point out towards the iDevice prediction. Over here, we can ask about what sort of prediction does it gives or provides to the user. Those of you who are not familiar with this tool will get familiar now and those of you were familiar would be happy to see the changes made to the tool.
As far as the F0recast is concerned, the tool simply allows a user to see all the details about his/her iDevice starting from Jailbreaking to Unlock and as of now, include SHSH Blobs as well. Other than these features, there are few more features added in the tool that are listed below: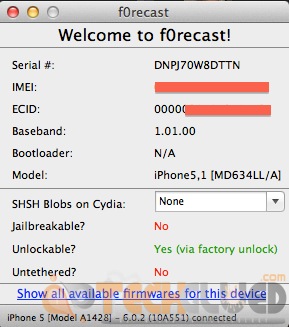 As we told you above about the Tool, now we are going to tell the features that are new in this update. The features that have been included in this update of F0recase v1.4 are:
SHSH blobs on Cydia
Unlockable Status
Show All available Firmware's for this Device.
Other than these features, the Jailbreak status and the untethered status are old features. These features were included in the previous build of F0recast.
You can download the latest version of F0recast v1.4 for
Windows from here.
MAC from here.