After ages we came across a new Unlock method by Luktar_Sun with the help of SAM. This unlock method doesn't Unlocks your iPhone like Factory Unlock or so, it simply allows you to have one SIM Unlock, that is to get unlocked on a particular Carrier SIM. Any how this method is a great success and everyone in the world is using this method. Recently SAM updated his tools for the Unlock for the ease of users about which we told you the day before. The new update of SAM and SAM PREF allowed users to do unlock with just one click and no hustle was there.
Unfortunately, some of the people were facing issue with this new method and were not able to unlock their iPhone the way they should be doing it. Personally, I was also one of them who was stuck on this Error of Activation Reports. I tried about whole night and couldn't get pass through it. Later on today, I came across a method posted by Hitul Gandhi. After seeing this method, I re waked my hope and followed the steps he mentioned. In the end, it worked like a charm and no errors were there. So I thought to share this method with you people and I am sure that many of you would be facing the same error on iPhone while performing the old steps.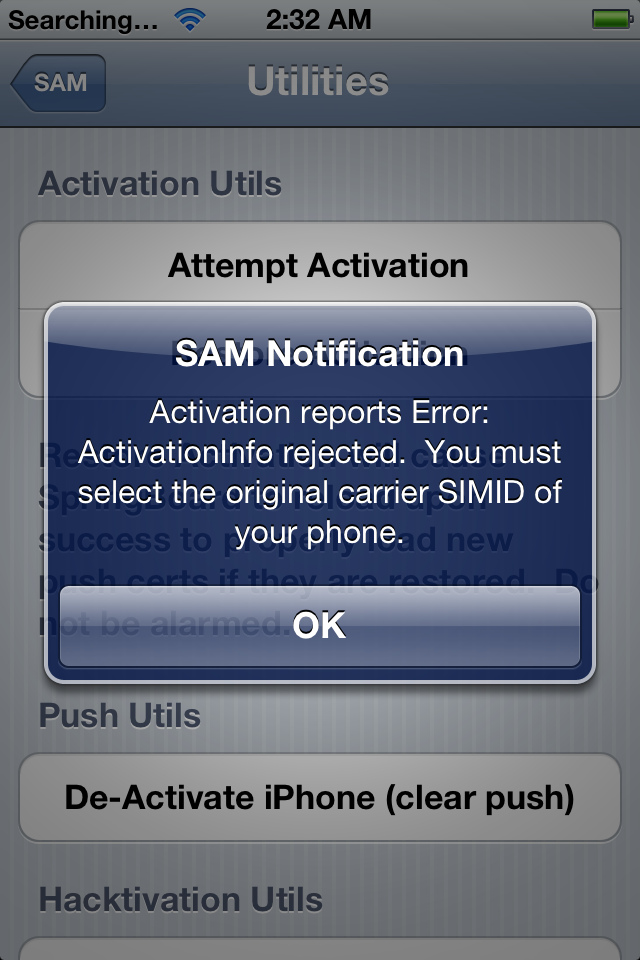 Read the updateX1 below Before proceeding with the Steps.
So below goes the complete guide on how to fix this error in no time and get Unlocked.
Step 1
Delete the folder of Lockdown from (Var/Root/Library).
After you are done with the deletion of the folder, Now Reset Network Settings on Your iPhone from (Settings>;General>;Reset Network Settings).
Step 2
After you have Reset Network settings, you iPhone will reboot. After it is rebooted, put the SIM Card You Want Unlock in the iPhone.
After this connect to your WIFI from Settings. Now open up SAMPREF from Springboard.
Step 3
Now when you are in SAMPREF, make sure that your iPhone is De-Activated. You can see in More information. The Activation status must say De-Activated.
If it says Wild Card Activated, then De-Activate the iPhone by going into Utilities.
If it says Factory Activated, then go into Utilities, press Revert Lock Down to stock and it will be De-Activated.
Step 4
After your iPhone is De-Activated, Go back in SAM Menu and Click on Method. Now Choose By Bundle Name Method.
Step 5
Now Click On Bundle and Choose ATT_US (For AT&T Locked iPhones Only). Basically It Should Be The Bundle Of The Carrier Your Phone Is Originally Locked On. (Mine was on AT&T so I chose AT&T. If you is locked on to 02 U.K, so you should choose 02 U.K)
Step 6
Now go back to menu and click on SIMID, There should only be one ID to Choose. If there is more than one, so choose one by one and one of them would work. In case, if first one never works, so choose second one. For me and Hitul, 310410 for AT&T Locked iPhone worked like a charm.
Step 7
Now go to Utilities and now perform Activation. If everything you have done is right, it will take some time for the action to work and you will have a respring on your iDevice and it will work after the respring is complete.
This method no doubt work for me and Hitul. I am sure that this method will work for you as well if you give it a try.
UpdateX1: This method will no longer work because Apple has fixed this Unlocking Method.
 If you want a carrier unlock for your iPhone. Kindly visit this page and fill in the form. We will let you know the details of the Unlock and if it is possible or not to Unlock your iPhone.