Today @MuscleNerd, the iPhone Dev-Team member on his Twitter account Tweeted that Apple has started to fix the glitch on their Activation server which allowed many of the users to unlock their iPhone using SAMPREF method which we told you few days back. This means that after sometime people won't be able to unlock iPhone using SAMPREF method because Apple will fix the issue on their Activation Server that will prevent the SAM trick. While the SAM trick for unlocking is prevented, people won't be able to unlock their iPhone on any new SIM even if they want to.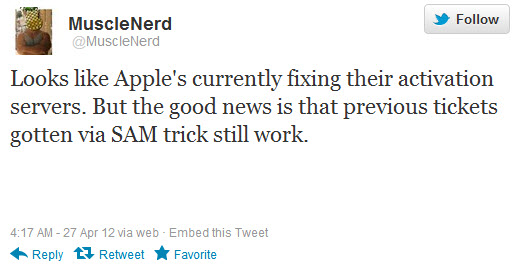 Looks like Apple's currently fixing their activation servers. But the good news is that previous tickets gotten via SAM trick still work.
This doesn't means that people unlocked using SAM method would be locked again after the issue is fixed, they will remain unlocked because the tickets generated by SAM will work fine. We told you to back up your activation tickets from Lockdown folder using Redsn0w. The backup of the Lockdown folder will be very helpful for you to stay unlock on any baseband and even SAM works or not, you will be unlocked. If you haven't backed up your Lockdown folder, you can follow our complete guide on how to back up Lockdown folder after unlock.
So, the honeymoon period for Unlocking will be finally over in sometime. If you are still trying to unlock and getting Activation SIM Error, you can follow our complete guide present here on how to bypass it. If you still getting the same error, then no luck for you. Now the Dev-Team should release an Unlock for the iPhone users, as it has been about ages since we saw the Unlock. The other way is to go with GEVEY SIM and unlock your iPhone like before.