There is a bad news for all the people who are still trying to Unlock their iPhone with the help SAM and SAMPREF. As reported earlier today officially by the well-known hacker and the member of the Dev-Team, @MuscleNerd that Apple was fixing their activation server are now fixed. Now the unlock hole is fixed by Apple due to which people were able to unlock their iPhone on any baseband using the SAMPREF method. This news is now officially confirmed by Sam Bingner, the person who promoted the unlock in his tool on this Twitter account, few minutes back Tweeting that: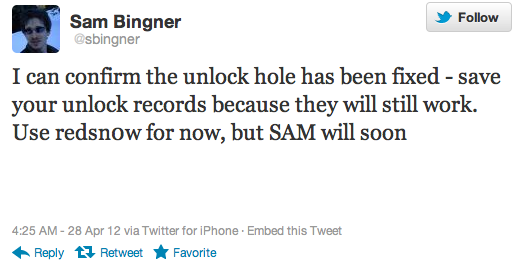 I can confirm the unlock hole has been fixed – save your unlock records because they will still work. Use redsn0w for now, but SAM will soon.
This is really a bad news for all those who are still trying to implement the solution and are trying to by pass the Activation Error posted by SAM the day before. Now they cannot do the Unlock for their iPhone other than GEVEY SIM.
The good news is that, unlock will work for those who got lucky and were able to unlock their iPhone using SAMPREF method before the Unlock got closed. They can save their Unlock with the help of Redsn0w v0.9.10b8 by following our complete guide present here. By saving the ticket for the Unlock, you will be on safe side and will remain unlock in near future on any baseband.
We hope that the Dev-Team come up with some solution for unlock after this method because it has been ages since we saw the last unlock. We think people might have forgotten about on which baseband they sawed the last unlock.