Before the release of OS X Mountain Lion, Apple heavily advertised about the Facebook Integration with Twitter Integration in its OS X Mountain Lion. The same OS X that is called the future of OS X. Few days back, Apple finally released the OS X Mountain Lion with over 200 awesome features missing one of the features that every one must be waiting for. The feature is integration of Facebook in OS X Mountain Lion like of Twitter. With the release of OS X Mountain Lion, Apple integrated Twitter and missed out Facebook because the Feature of Facebook is said to be in development Phase for the OS X Mountain Lion.
How ever, Apple advertised the Facebook integration as if it is going to come with the release of it. Many of you would have bought the OS X Mountain Lion copy for $19.99 to enjoy the Facebook integration and as well as Twitter integration. Somehow, the Facebook option was not there and Twitter option was present in the accounts section. After because the Facebook isn't there, some of you might have gone like WTF Apple did. They simply pranked the users.
Apple didn't prank the users for the Facebook option because it is in development stage and would be out when it is fully compatible with free of bugs.
Until then, we came across a developer build of Facebook that was shared by (Mads Teland) making the Facebook appear in your OS X Mountain Lion 10.8 version. Therefore, we installed the build and finally got the Facebook option in OS X Mountain Lion.
Incase you need to have hands on the Facebook for OS X Mountain Lion, simply follow the basic steps below to have it.
Step1:
Download the Facebook (Developer Preview) build.
Download OS X Mountain Lion 10.8. (You need to be on OS X Mountain Lion to use the build of Facebook)
Step 2:
Install the Developer Preview on your OS X Mountain Lion.
Step 3:
Once done with the installation, head over to Settings.app and go into Mail, Contacts, and Calendars option.

Step 4:
Now go onto the "+" sign below to add an account. Once done, now you will see the option of Facebook.
Now simply add in your account and enjoy Facebook.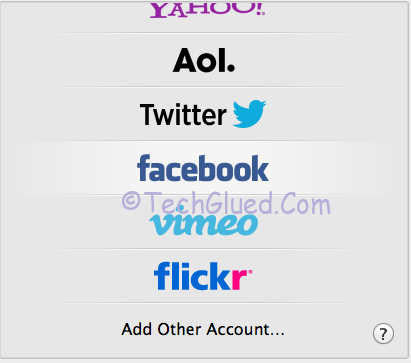 Note: this is the Beta build of Facebook and might be buggy. If you face any issue, simply uninstall the build.
The public version of Facebook will be landing this Fall for OS X Mountain Lion.