Apple released iOS 6.1.3 with bugs fixed, improved Maps for Japan, and did they patched Evasi0n Jailbreak?
Moments ago Apple released iOS 6.1.3 for public that patches the two popular screen security flaws that were reported back in iOS 6.1.2. In addition to patching of Screen Security Flaw in iOS 6.1.3, Apple has also made an improvement for the Maps of Japan as promised. The improvements made in Maps for Japan includes the following: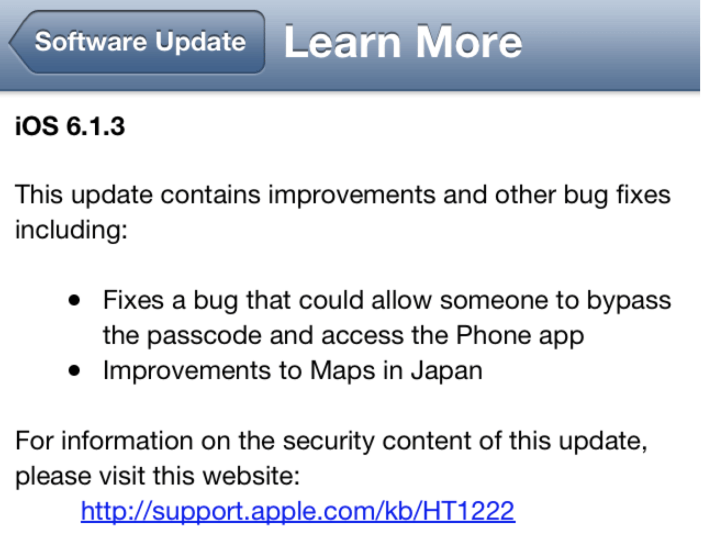 Improved pronunciation of roads during turn-by-turn navigation

Optimized directions to more strongly prefer highways over narrower roads

Now indicates upcoming toll roads during turn-by-turn navigation

Added labels for junctions, interchanges, on-ramps, off-ramps, and intersections

Added indicators for transit station buildings, subway lines, and traffic lights

Updated freeway color to green

Updated icons for some location categories including fire stations, hospitals, and post offices Added 3D buildings including Tokyo Station, Japan Imperial Palace, and Tokyo Tower
As far as the Evasi0n Jailbreak is concerned, it might be patched with this update because Wang in an interview with Forbes a month back told that Apple was able to find and patch the exploits that were used in Evasi0n Jailbreak for iOS 6. Apple patched not all the exploits, but Apple patched one or two of them and Evad3rs have many more exploits in hand to go with future Jailbreaks.
Therefore, the bottom line is that don't update to the latest iOS 6.1.3 because there is no way coming back to iOS 6.1.2 on iPhone 5 and above iDevices. If you update it accidentally, then regret the accident. We would recommend staying away from this update.