The time for the new revolution is almost around the corner and previously Apple had started to decorate Moscone Centre, the heart of their WWDC events. This year we with the general public are assuming a lot of new things by Apple on its upcoming WWDC 12. We cannot expect a launch of a new iPhone because Apple has changed their trend of launching the new series of iPhone since last year. At first they had announced iPhone 4 on WWDC, but from last year, they have taken the new launches to Fall with the release of new iOS versions.
Like the previous years WWDC 11, Apple released the series of iOS 5 for iPhone, iPod, and iPad. We are expecting the release of iOS 6 at this year WWDC 12. Instead, we should say that we are waiting for the first beta release of the iOS 6 at this year WWDC 12. Yes. The new version of iOS family, iOS 6 is on its way and is getting ready for its first Beta version for Developers at this year WWDC 12. We still don't know about the features of the iOS 6, that what it has to offer us, but we are dead sure that iOS 6 is coming at this year WWDC 12, that is only few days away.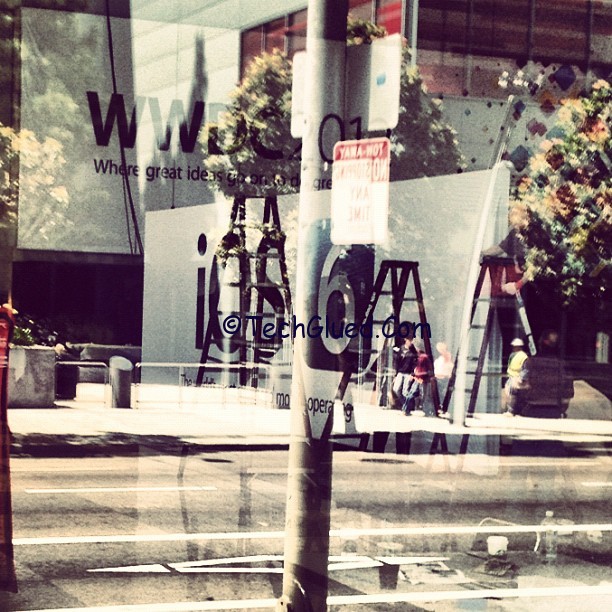 Like every year, people love to see Apple's preparation for its Events and they want to see if they can get any hint or clue by which they can get a hint of next upcoming thing. Like this, Zacaltman, a normal Apple fan that went to Moscone Centre to view Apple's WWDC 12 decoration got something really interesting. He spotted a banner of iOS 6 over there that confirms the launch of iOS 6 at this year WWDC 12. He shared the picture on his Instagram account, the same photo uploading website that was acquired by Facebook for some Million Dollars few months ago. You can get more details on WWDC 12 from here.
We are expecting a lot from this upcoming iOS 6. Even the banner of iOS 6 says something like most advanced operating system or something like that. It is unclear. The last wordings are a bit clear. Anyways, don't forget that @Saurik, the creator of Cydia will also be attending this year WWDC 12.One more thing that we would like to mention is that the support of iOS 6 might drop off iPhone 3GS and iPod 3G. Like Apple did for iPhone 3G in the case of iOS 4.3. Apple dropped the support of iPhone 3G and iPod 2G after iOS 4.2.1.
How many of you are excited about the release of iOS 6? Do share your excitement with us.