Since the evolution of Gevey SIM interposer for iPhone 4's, unlock has been made easy for the basebands. If we talk about the official Unlock or any progress on it, we would like to take you about almost 3 years back when we saw the first Unlock for iPhone 4 on 1.59.00 baseband. That was/must be the happiest day of a person's life owning an iPhone 4 on that Baseband. After that, when Apple pushed out a new iOS update making the baseband update and getting back the iPhone 4's locked again. Those who refrained from unlock are still safe from Lock and are still unlocked on old baseband using Ultrasn0w happily.
Those unlucky people who updated to latest iOS at that time got unlucky and got locked on the new baseband that was 2.10.02. That must be a great shock for those who were updated at that time. Later on, we cam across many rumors about the unlock that it is coming day after, after one month or so, the days were passed using all of these sort of news. Amazingly a whole one-year without the Unlock passed away. That was really strange. Then luckily some one realized about Unlock and some company called GEVEY SIM came up with the solution of Unlock for iPhone 4 users up to 4.10.11 Baseband.
Unluckily, Apple has patched the GEVEY SIM Exploit in iOS 5 making the lock once again possible. Still now luck for people locked on new basebands on iPhone 4.
Later on, the time passed like a river and we came across iPhone 4S. The same story happened with iPhone 4S in the matter of Unlock. One again people were showed a hope that iPhone 4S can be unlocked, still no official unlock for iPhone 4S. Once again, GEVEY people (Unofficial ones) saved the ass of owners owning an iPhone 4S. I am also one of the users who got saved from the GEVEY people with the help of their GEVEY All in One SIM card for iPhone 4S.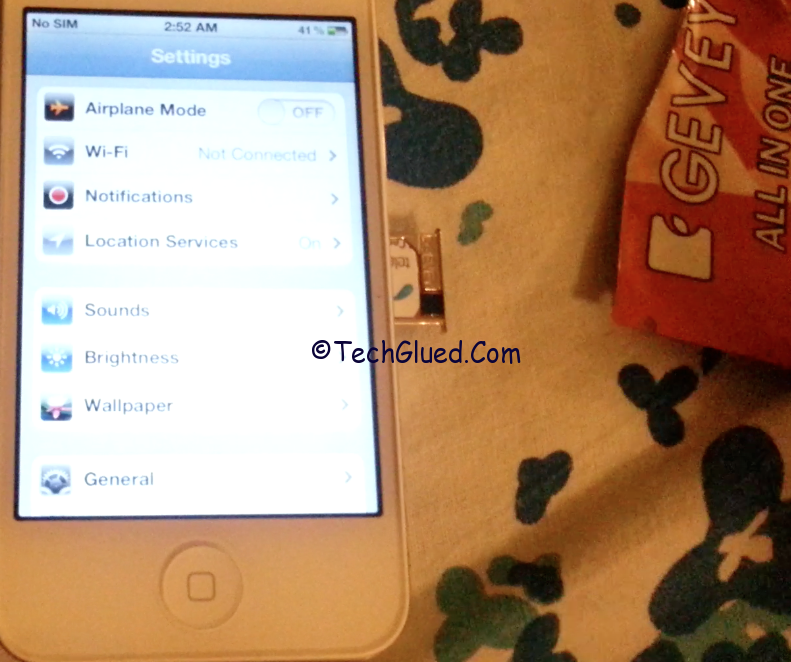 This GEVEY All in One SIM has nothing to do with the official GEVEY (ApplenBerry). This GEVEY SIM card people are different. Anyhow, the point is that, the GEVEY All in One works on iPhone 4S on any baseband. I can confirm this because I have tested and I am using it on my iPhone 4S without any issues. My iPhone 4S is locked to 02 U.K and Unlocked using this GEVEY All in ONE (No Cutting) SIM.
Here no SIM Cutting means that you don't have to cut you SIM other than the original size that you cut for micro SIM Card.
For the proof, I have made a video of GEVEY All in One in action on iPhone 4S, iOS 5.1.1, having baseband 2.0.12.
See the video below in action:
 Video:
The method to make the SIM is easy. If you are willing to buy this Gevey All in One for your self, kindly head over here and see for the authorized reseller in your country. If you are from Pakistan, go to Contact Us section and contact me for this Gevey All in ONE for iPhone 4S.