It has been only few days since the New iPad was launched in nine countries. It would be hardly five days since the New iPad debuted for public. The amazing thing is that the New revolutionary iPad made a phenomenal sales of 3000,000 in just four days after its launch. That was a great breakthrough of any iPad in history. The iPad 2 took 4 months to reach the sales of 300,000. This was no doubt a great breakthrough of the New iPad sales in history. When the new iPad got launched many people like before lined up in long queues to get their hands on the New iPad and be the first one to get the iPad before the rest of the world.
When the New iPad was in the hands of consumers, everyone did great review of the New iPad with iPad 2 and came out with a conclusion that the New iPad is better than the iPad 2 in almost every aspect. It was better in specifications, size, and the design is the same. The New iPad must be a revolutionary iPad and must be better than the iPad but there was a little difference which was missed in the New iPad. The difference is really small and this difference outdone the New iPad when compared to iPad 2. This was proven by a third party consumer warranty company called Square Trade which went on streets to show that slight difference. They made out two different tests with the iPad 2 and the New iPad. Both of them were dropped one after another in different positions from Waist height and Shoulder height. First the iPad 2 was dropped faced down and then backwards from the waist height-then it was dropped down from Shoulder height following the same procedure, facedown and backwards. The result of the first drop down from the waist height didn't damage the iPad 2 screen. Whereas the Shoulder height damaged the iPad 2 screen in both ways, Facing upwards and downwards. The shoulder drop down ended the job for the iPad 2.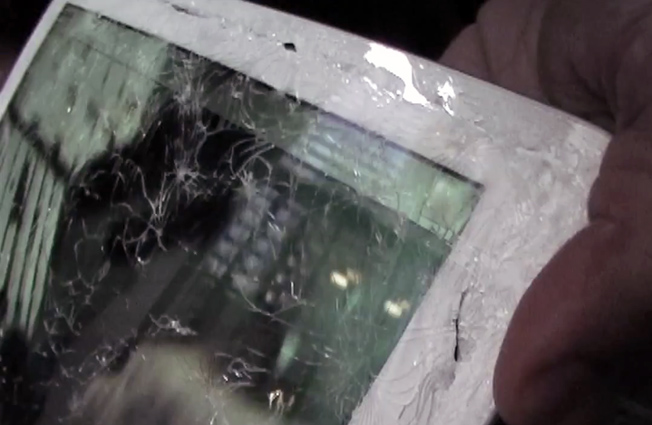 Now the New iPad turn comes in. The results were amazing than the iPad 2. We were expecting the New iPad to survive better than the iPad 2, but the results came out negative. When the New iPad was dropped from the waist height facing down, its glass got shattered. When the New iPad was dropped facing down the screen from shoulder height, the results were atrocious. The New iPad glass got broke down and it was looking like some car ran over the New iPad. The New iPad got broken from in a way that the entire screen came out after the drop.
You can see the video below:
Moral of the story: Never ever drop your New iPad by mistake or in fun. If you are planning to do that, so check out the Square Trade warranty to get your New iPad replaced.
(BGR)