This Sunday is going to be a real Funday for people owning an iPhone 3GS and iPhone 3G stuck on iPad baseband. If you people remember, we told you few years back that the iPad baseband would be downgraded some time and still no eta was announced for it. We also showed you the Tweet from @Sherif_Hashim regarding the iPad baseband Downgrade in progress. At that time, we all were expecting the release of this downgrade method with every new released of the Jailbreak and update of Ultrasn0w. Still we never saw the iPad baseband coming to light. Our hopes were left in the dark with a small "?" mark left behind for iPad baseband downgrade.
Finally, today @MuscleNerd, the Dev-Team member Tweeted on his Twitter account that they have made a significant process in downgrading the iPad Baseband on iPhone 3GS and iPhone 3G users.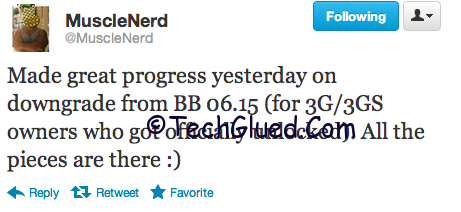 Made great progress yesterday on downgrade from BB 06.15 (for 3G/3GS owners who got officially unlocked).All the pieces are there :)

— MuscleNerd (@MuscleNerd) June 10, 2012
Many of you won't know why the iPad baseband was released for the iPhone 3GS and iPhone 3G. To make the entire story in short, the iPad baseband was introduced to unlock iPhone 3GS and iPhone 3G on iOS 4.1+ basebands. There was no unlock for new basebands on iPhone 3GS and iPhone 3G onwards from iOS 4.1.  The problem with iPad baseband is that people loose their GPS, face battery drainage issues, and notification don't works on iPad baseband.
Finally we have heard a great news for people waiting for the freedom from iPad baseband 6.15.00 on iPhone 3GS and iPhone 3G. The plans for the Dev-Team are to downgrade the iPad baseband 6.15.00 to 5.13.02 baseband, so people can get their official Unlock by Ultrasn0w and get back their Navigation and push notifications.
Till now there is no eta for the release of this Method. We assume that the iPad baseband downgrade will come some time this week or the next. How many of you are excited after hearing this news?