It's the time for the history to repeat for Apple Products and time for people to curse Apple for reinventing the products at a wrong time. Before buying an Apple product, we never wait for the new product because we know about the trend of Apple launch sequence of its products. Any new product doesn't come before a year. This time, Apple changed the history and made a new trend in the Tech World by releasing iPad 4 along with iPad Mini in late October. The tech giant company wanted to beat the competition, that's why they launched two new products simultaneously without even thinking about the preceding iPad 3.
This year, Apple didn't wait for the year to be completed because they wanted to kick out Lightning Dock connector to the iPad series, so they released a new model of iPad 4 with Lightning Dock connector that the company introduced with iPhone 5. The fruit company didn't only released the iPad 4, but also released a smaller version of the iPad called iPad Mini to replace the iPad 2 with no Retina Display. Before the iPad Mini was announced, expectations were that it might be a low-end retina Device, which later on turned out to be false. The iPad Mini never came with a retina display, indeed it came out with the same old iPad 2 Specifications.
This minor update in hardware and major in design couldn't stop people from buying this small-sized tablet of 7.85-inch because they are in hope that Apple will release another update sometime next year in the same month of October for the iPad Mini. Incase you are buying iPad Mini keeping in mind about the newer version of the iPad Mini to arrive next year in the same month of October, then you are completely wrong. If you have already bought an iPad Mini on the holiday season, then get ready to kick your self because Apple may be planning to release an iPad Mini Retina Display version as early as next year in 2013.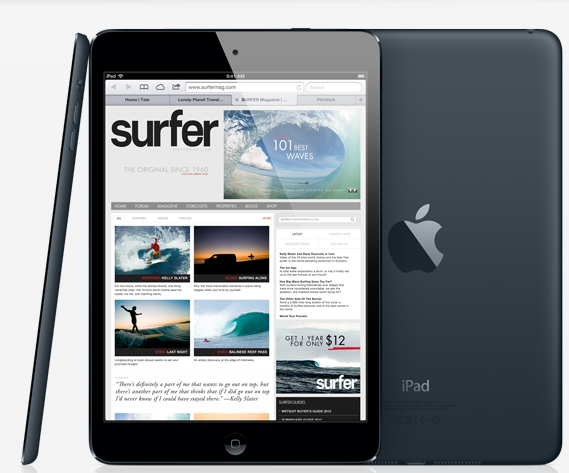 The report of a newer display coming to the iPad Mini by Apple in 2013 comes from DigiTimes, who's unnamed multiple sources in Taiwan Based Back-Lightning Industry reported about a high-resolution display to make its way for the iPad Mini. The high-resolution display will support 2058X1536 pixels with the traditional 326ppi resolution.
Other than these specifications, no more details were told by the sources.
If we put some weight on this rumor hypothetically, then we can say that the iPad Mini Retina version would be a killer and a game changer. Those of you have used iPad 3 or iPad 4 With Retina Display know better about the Retina Display on a big screen and how would it look like on the hand-sized tablet.