The trend of small sized screen smart phones has changed after the evolution of big screen sized cell phones. If we talk about larger displays, we can name Samsung as the first smart phone vendor to make a 4-inch and greater display smart phones in the mobile industry. Samsung introduced a 4-inch Display from Galaxy S Series and moved till 4.8-inch display regardless of the design or shape of the phone will look like. After wards, Samsung took the smart phone series to a completely new level by introducing Galaxy Note, that was not a Phone or Tablet, it was a Phablet instead.
Later on, Samsung keeping up with the competition, announced Galaxy S3 with a 4.8-inch display along with Galaxy Note II that carried a 5.5-inch display. The Galaxy Note II was some how called a smart phone because it had many features resembling to a phone and tablet. Samsung did combined all the features by introducing Galaxy Note II, but no one ever imagined about having a Phablet of 5.5-inch in their hands and using it like a Phone would make them look like a weirdo. If you haven't realized about this fact or failed to realize that having a 5.5-inch smart phone is an art, then you would be more interested in knowing that Samsung is planning to release an upsize version of its Galaxy Note II with the name of Galaxy Note III.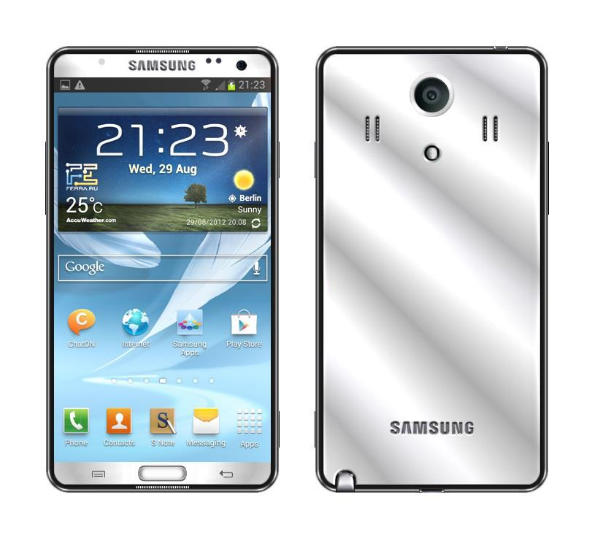 The news of this oversized smart phone comes The Korea Times stating that Samsung is reportedly planning to release an upsized version of Galaxy Note II, Galaxy Note III with a 6.3-inch OLED Display in 2013. In comparison with the current successor of Samsung, the Galaxy Note II packs a 5.5-inch display. Therefore, we can expect even a bigger Phablet version of 6.3-inch display by Samsung in 2013.
The idea of an enormous display might sound very good at this time, but to make this gigantic Phablet work will be a real test for Samsung because to power this large display Samsung would be requiring a better battery with amazing life. On other hand, Samsung will pack this Phablet with new amazing features such as LTE that will consume more battery than the preceding Galaxy Note Series.
Other than the features or specs, the main thing would be the enormous size of 6.3-inch that will be difficult to fit in people's hand. The existing Galaxy S3 is of 4.8-inch and it is little bit difficult to carry in one hand.
Yet, it is too early to say anything about Samsung Galaxy Note III because Galaxy S4 is on the way by Samsung at C.E.S 2013.