Waking up from the bed realizing that today is the day when iPhone 5S Australia Sales would kick off and jumping off the bed after realizing the same thing, might be an extra work or an extra effort in the list of To Do things for today. In addition to the excitement of the iPhone 5S arrival in Australia, you would be rushing to the nearest Apple Store to grab one piece for your self or you would be ordering it online for your self. This might sound interesting, amazing, or superb or it might make you jump like a monkey for today because you will be getting the iPhone 5S in a week or two.
This might not be the case for every one in Australia because going early to the Apple Store for your favorite color pickup realizing that you will get the same one from the Store would definitely annoy you. The reason behind this is the constraint supply of iPhone 5S Colors on its launch by Apple and its Suppliers around the world. Apple is having a hard time to coupe up with the demand for the iPhone 5S different Color Scheme.

At some places, the iPhone 5S Golden Color and Silver Color wouldn't be available on the launch day because Apple couldn't meet the demand for those colors. We are not sure about the iPhone 5S Australia Sales.
However, the Australian Apple Store Website shows the availability of the iPhone 5S in three different colors with delivery time to be 7-10 business days from the date of order.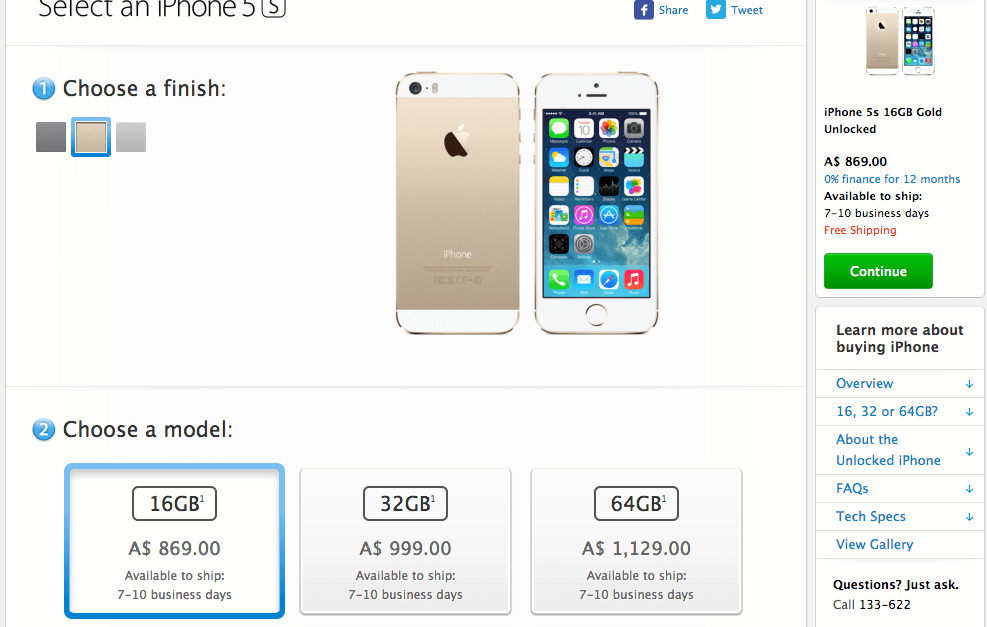 The time seems to good enough for one to order it online because in other countries the time would seek a slip from the actual date due to high pre-orders and over whelming demand for the iPhone 5S.
Conversely, the iPhone 5S 16GB variant is available for AUS$869, 32GB Variant for AUS$999, and 64 GB Variant for AUS$1,129 in the Australian Apple Store.
Are you going to buy an iPhone 5S in Australia as the iPhone 5S Australia Sales have started?