Previously delayed iTunes 11 by Apple will be releasing in few days. Apple has asked the Artists to get ready with their picture and arts work for iTunes 11 because the tech giant will be releasing the revamped version of iTunes 11 in few days. This revamped version of iTunes 11 has topped the story line in past beating the record of the iPhone 5 leaks. Before the iPhone 5 could make a public appearance, it was highly expected that Apple is planning to release this revamped version of iTunes 11 along side the iPhone 5 on September 12. Few minutes before the release of the iPhone 5, the name and version of the iTunes 11 was leaked by Apple's own website.
Even after being leaked on its own official website, we didn't saw any iTunes 11 version with the iPhone 5 on its launch day. Instead of iTunes 11, Apple released iTunes 10.7 version ahead of the iTunes 11 launch. However, after having the iTunes 10.7 release, Apple announced in October 2012 that it has held back the iTunes 11 for late November release because they wanted to get it right.
As we have landed in the last week of November 2012, the reports have started to emerge that Apple has planned to released the iTunes 11 version in few days and have asked the Artists to submit pictures and galleries for the upcoming iTunes 11 version.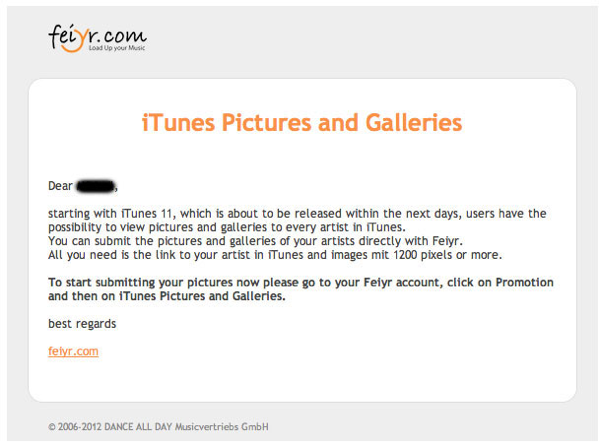 The above E-Mail was sent to a German Music Distribution Service, Feiyr stating to submit pictures and galleries directly with Feiyr, so a user can directly view the images in the upcoming iTunes 11.
As for now, we know that iTunes 11 is around the corner and this new version of iTunes 11 will bring tons of new features with completely redesigned UI and much more. However, we don't know about the exact date of the iTunes 11 releases. We expect the release to be made somewhere on Friday or Monday. Stay tuned with us to know about the iTunes 11 Release. We will notify you about the release of iTunes 11, as soon as it arrives for Download.