The release of OS X 10.9 seems to be prominent because Apple is planning to expand its SIRI Language network to additional six languages. Recently we told you about the two features that were leaked in wild the day before of OS X 10.9. Out of those two features, SIRI was one of the major that is highly expected to arrive in OS X 10.9 and as of today, it seems that Apple is planning to do a deep integration of SIRI in OS X 10.9. This deep integration of SIRI in OS X 10.9 is not confirmed or rock firm because the beta build hasn't surfaced the Internet yet and is being tested internally.
However, we can say that it is Semi-Confirmed or partially confirmed about the arrival of SIRI in OS X 10.9. The partial or semi confirmation comes from no one other than Apple who posted a recruitment drive on its website looking for people who are Native or fluent in Arabic, Chinese, Danish, Dutch, Finnish, French, Korean, Norwegian, Swedish, and fluent in English.
This new job listing on Apple's Website appeared on November 13, 2012. The job listing doesn't emphasize directly on SIRI, but a part of the job description says it all. Before a person is placed on the job, the Cupertino tech giant will offer the person from above stated language an internship opportunity of six-months and then the person would be hired to work with Apple on its SIRI project.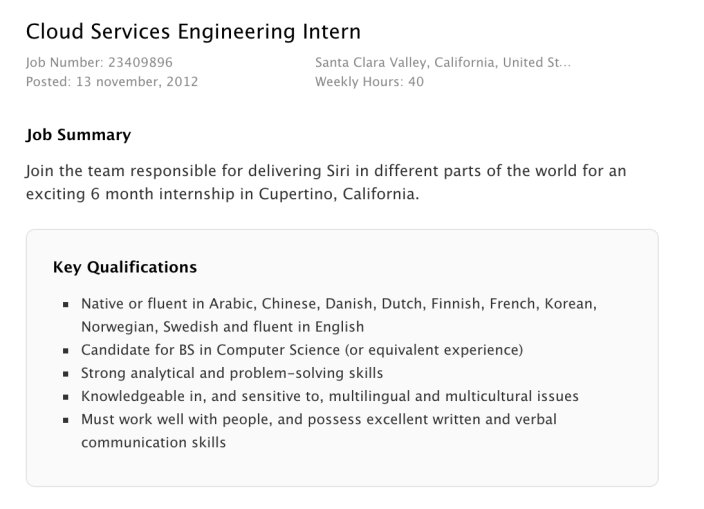 The job summary says it all.
Join the team responsible for delivering Siri in different parts of the world for an exciting 6-month internship in Cupertino, California.
After seeing the job summary, we can expect an expansion of SIRI to be made in several different languages starting some time soon. This recruiting by Apple for SIRI only hints towards an expansion of its virtual assistant for iOS Devices as well. As we, all know that SIRI is currently supported in the following languages:
Chinese (Cantonese, Hong Kong, Mandarin, China, Taiwan)
English (Australia, Canada, U.K, U.S)
French (Canada, France, Switzerland)
German (Germany, Switzerland)
Italian (Italy, Switzerland)
Japanese
Korean
Spanish (Mexico, Spain, U.S)
We can expect the arrival of these nine additional languages in the upcoming iOS 6.1 or in iOS 7. Apple had released second Beta of iOS 6.1 few weeks ago and now we should be expecting another iOS 6.1 Beta some time soon. Lets see if it brings any changes to SIRI or not. The chance of additional languages to arrive in iOS 6.1 seems to be very low. Therefore, don't expect these nine languages coming in iOS 6.1.