The approval of Nokia "Here" Maps by Apple is done in just seven days after the news surface on the Internet that Nokia is planning to release its own Maps App for iOS and Android. This new Nokia "HERE" Maps App got released today for iOS only and the Android Version of the Nokia "HERE" Maps might be in progress by the company. This fast approval of Nokia "HERE" Maps for iOS by Apple make us go in some doubt because the biggest competitor of both the companies in regards of Maps, Google was in the lead for making the Maps App and submitting them to the App Store.
Amazingly, Nokia "HERE" Maps was approved before Google Maps could get a green signal to go live in the App Store. However, as of today, Nokia "HERE" was released in the App Store free of cost for iPod/iPhone/iPad. This newly released Nokia "HERE" Maps is completely HTML 5 Based and allows a user to save a particular location for later use with tons of new features.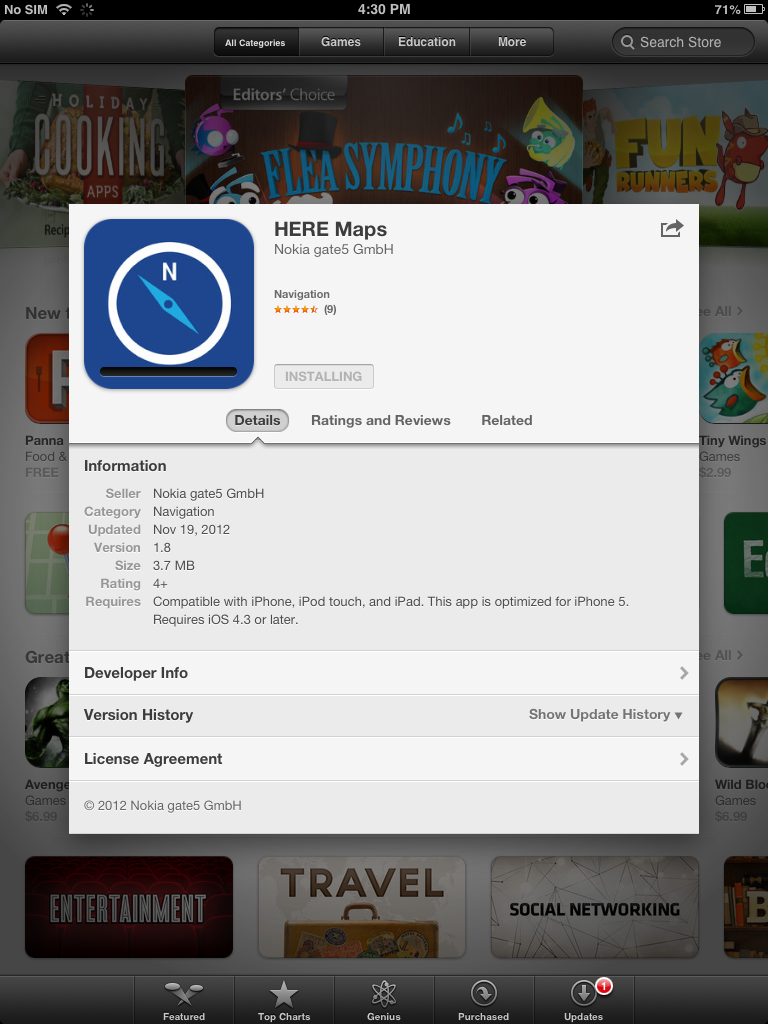 Complete list of Nokia HERE Maps Features:
• Map views – Pick the map you need from map view, live traffic view, public transport line view or satellite view 
• Save map areas & wander without data coverage 

• In selected countries, access community maps created and updated by users 
• Maps, search and place coverage for nearly 200 countries 

• Search with history and suggestions
• Share places with just a tap, including the location and how to get there, over SMS, email, or social networks 

• Organize places you love into Collections 
• Sign in to HERE Maps with your Nokia Account or Facebook login 
• Sync with Here.net – Access your Collections anywhere 

• Step-by-Step voice-guided walk navigation
• Walk navigation through pedestrian routes, parks, alleyways, and more 
• Public transportation and driving directions.
This new Nokia Here Maps is not an ordinary Map App. This new Nokia Here Map App is more like the Foursquare App. With this new Nokia HERE Maps, you can see nearby places like Eating Out, Shopping, Going Out, and famous Sights that are near by you. Other than this, you can share your current location or the place where you are willing to go on Facebook, Twitter, E-Mail, SMS, and few more services. Once you have decided to go to a place located on the Nokia HERE Maps that are near by you and can get turn-by-turn voice navigation that is fully functional in this Nokia HERE Maps.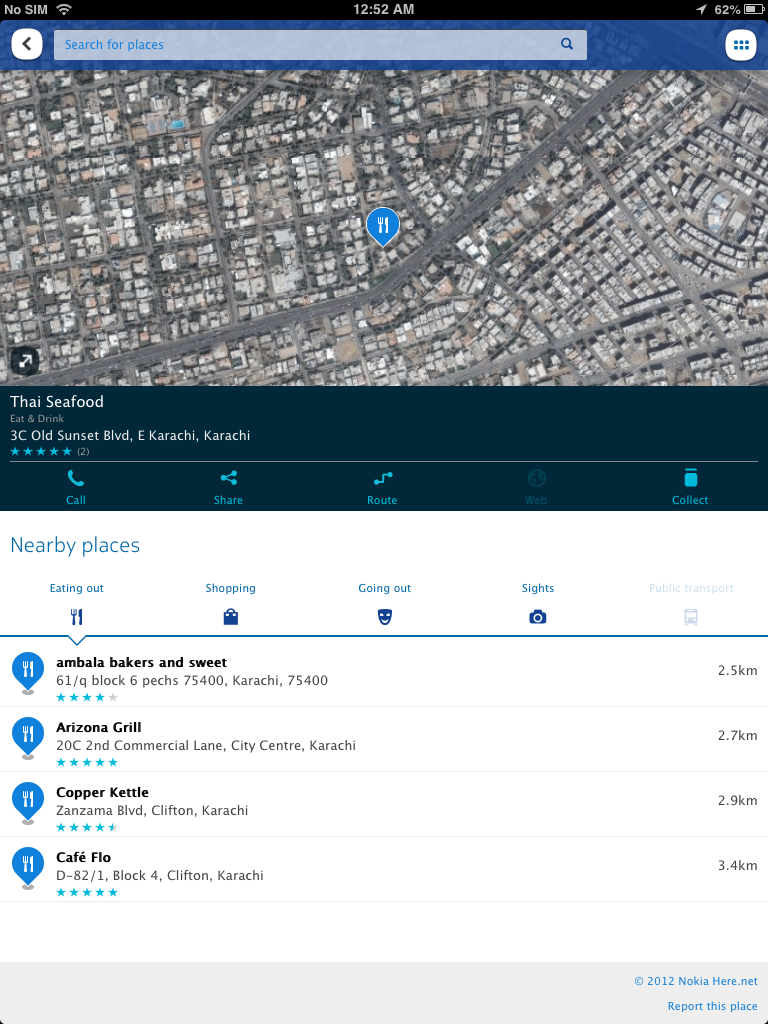 If you are planning to go out somewhere, then this is the must have Maps App on your iPhone/iPad/iPod Touch for the navigation and routing. Nokia HERE also tells you the exact address of the place where you want to pay a visit.
According to us, this the best Maps App that we have ever used so far. This Nokia HERE Maps will for sure beat the scandalous iOS 6 Maps App that is work in progress for issues to be fixed. We would highly recommend this Nokia HERE Maps App to our users to download the App and start using it from today to have the best/phenomenal navigation experience of their life.
After Nokia Maps Approval, the turn of Google remains behind. All we can do is just wait for the Google Maps for iOS to arrive and then we can see about the features that it offers are comparable to Nokia Maps App or not. Google Maps App was last seeing in limited external testing for better performance and reliable navigation on November 16.
While Google is doing testing externally, you can download this Nokia HERE Maps free for iOS from here.
After you have downloaded and used the Nokia HERE Maps App, don't hesitate to share your experience with this amazing Maps App with us. We would love to hear from your side about this new App.