The highly anticipated iOS Google Maps App has been released for external testing by Google to a specific group of testers. Soon after Apple planned to make its own Maps App in iOS 6 and screwed the Maps after release, the rumors started to emerge that Google is planning to come up with a stand-alone version of iOS Google Maps because Apple had ditched Google Maps to introduce its own Maps. The rumors that surfaced were not clear enough about the Google Maps App because some stated the Google Maps App is in works and some rumors were denying this fact by saying that Google has no plans for making an iOS Google Maps version.
To over come the confusion that rumors created, we told you about a way in which you can get default Google Maps on your iPhone, iPod or iPad the easy way. The way can be viewed over here. Now following the rumors like a religion, in the preceding month we reported about a breaking news that showed the appearance of iOS Google Maps spotted in the Alpha versionin leaked images. After seeing the images, it was assumed that Google Maps for iOS is in works and would be released soon. So later today, WSJ confirmed the news about the highly anticipated iOS Google Maps App by stating that the App has been rolled out to some external testers by Google to test the Google Maps on their iPhone.
Google has distributed a test version of its new mapping app that will work on Apple's iPhones to some individuals outside the company, said a person with direct knowledge of the matter.
There is no specific E.T.A allotted by the source that told WSJ about the iOS Google Maps App testing has been started by Google externally.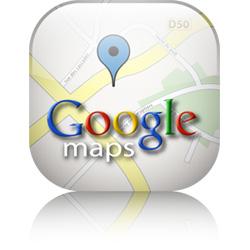 The launch for Google Maps for iOS seems to be imminent because Google is polishing the App before they submit it into the App Store for the review process. After the App is submitted into the App Store, then the ball will be in Apple's Court to Approve the App or not. Apple may disapprove the App because of heavy competition with its own Maps App for iOS.
Other than Google, Nokia is also in the line for submitting its own Maps App for iOS that the company announced few days back with the name of "HERE." The company is aiming to offer a Maps App based on HTML5 and will work in offline mode. Even the "HERE" Maps App will feature turn-by-turn navigation for iOS on iPhone's. The company plans to release the App in the App Store.
We can now say that Apple has a tough competition to play in regards with the Maps. Apple has to beat Nokia and Google in order to make its own Maps App to be used more than of its competitors. The competition is tough and time is less.