Until today the Times Square in New York might be looking good because there was only one teaser banner was ruling the streets. The teaser banner was not other than Samsung. Samsung upswing the teaser banner of Be Ready 4 The Next Galaxy Few days back to create an awareness for the upcoming Galaxy S IV that is today March 14. But later today, a small mobile company LG raised its banner above Samsung's billboard to make fun of the upcoming Galaxy S IV teaser.
The electronic billboard placed by LG uses the same numeric 4 as of Samsung has used and have promoted their smart phone called LG Optimus G.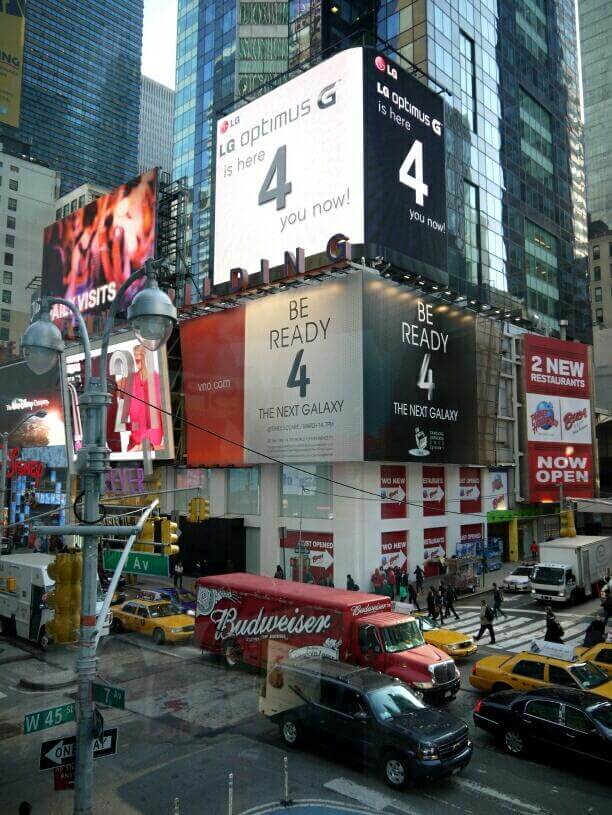 The electronic billboard of LG says:
"LG Optimus G is here 4 you Now", where as Samsung's Billboard states, "Be Ready 4 The Next Galaxy."
This is indeed a smart move made by LG to pick on Samsung's upcoming Galaxy S IV, but Samsung has its own target market. The Korean company has planned to sell 50 million Galaxy S IV units this year with 1 million to be sold as soon as the Smart Phone is launched. There is no doubt that Samsung can sell the Galaxy S IV up to these figures because Galaxy S IV will be giving a tough competition to its competitors in the market. Moreover, HTC ONE M7 will be the first one on the list of Samsung.
The unveiling of Galaxy S IV will be done at March 14 at 7:00pm EDT; therefore stay tunes with us because we will be showing the event live.