Few minutes back, Microsoft announced an update for its Microsoft Office 2011 for MAC users. This new update of Microsoft office 2011 brings real time support for the Retina MAC Users. Previously Microsoft announced that they wouldn't be releasing any new update for the MAC users. Not even for those who bought a Retina MAC Book Pro. Today the company stunned the MAC Book Pro Retina users with an unannounced or predicted update for office 2011 for mac. This new update of Microsoft Office 2011 for MAC Book Pro Retina users brings enhanced new look for the crisp retina display with some major changes made to outlook 2011.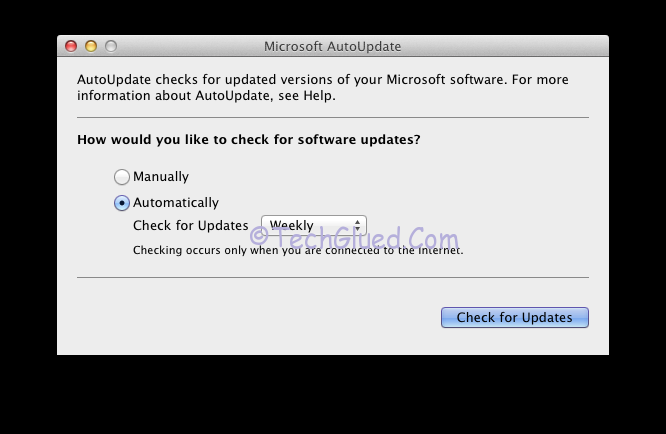 This new update is available in two ways. The first is way is the auto update for the Microsoft Office 2011 for MAC and the second way is to download the build manually from their official website. If you have checked the official auto update function, as shown in the above picture, then you will get a message prompting to update the Microsoft 2011 for MAC in no time.
Improvements that are included in the update

The Office for Mac 2011 14.2.4 Update includes the following improvement:
Office 2011 for Mac now supports retina rendering on Mac computers that are equipped with a retina display.
Improvements for Outlook for Mac 2011:

This update adds the ability for reminders of calendar events to be displayed for all calendars in Outlook. Previously, reminders were only displayed for calendar events in the default account's calendar. Reminders are now displayed for other calendars, and this includes local On My Computer calendars. This update adds the ability to select a default text encoding for composing new messages. The encoding that is selected in composing preferences will be applied to all new messages that are sent from Mac Outlook. To access composing preferences, select Outlook, select Preferences, and then select Composing. The new preference is Preferred encoding for new messages.
This update changes the HTML syntax of new signatures to be compatible with Mountain Lion and the latest version of WebKit. Email signatures in HTML-formatted email messages may not be displayed in the intended color when the messages are viewed in Mountain Lion or in previous OS versions that were upgraded to the latest version of WebKit. Existing signatures that exhibit this problem must be deleted and recreated to resolve the problem.
This update improves Mac Outlook's handling of partially downloaded messages. It is now possible to delete or move partially downloaded Exchange messages within the same account.
This update fixes an issue in which Mac Outlook would crash when it moved certain messages to On My Computer folders by using client-side rules.
A part from the crisp retina display support, major improvements have been made to Outlook for Microsoft Office 2011 for MAC.
You can download the new update of Microsoft Office 2011 for MAC Book Pro from here.