It is the time to get ready from some massive shopping. Like always, this year get ready to spend as much as you can do on this one day Apple shopping event. On this one day Apple Shopping Event, tons of new products would go on sale around the globe. This one day Apple shopping event is scheduled for this Friday, 23 November 2012. This Friday, November 23 2012, not only Apple, many of the F.M.C.G's and several other products will go on sale or will be available on a heavy discounted price because this Friday wont be an ordinary Friday.
This Friday, November 23 2012, will be called the Black Friday. The same black Friday on which tons of things go on sale all around the globe and people line up outside several stores to grab many new/old items at the best price they can. On this black Friday, many of the things are sold on half of the price or less than the half of the price. We can say that the things sold on this Black Friday are almost Free because they account for very less amount.
As the Black Friday draws near, Apple has started to E-Mail the teaser of its products by sending out a teaser to several users around the globe. Later today, Apple sent out the teaser to New Zealand users stating,
"This Friday, there's something for every one including you."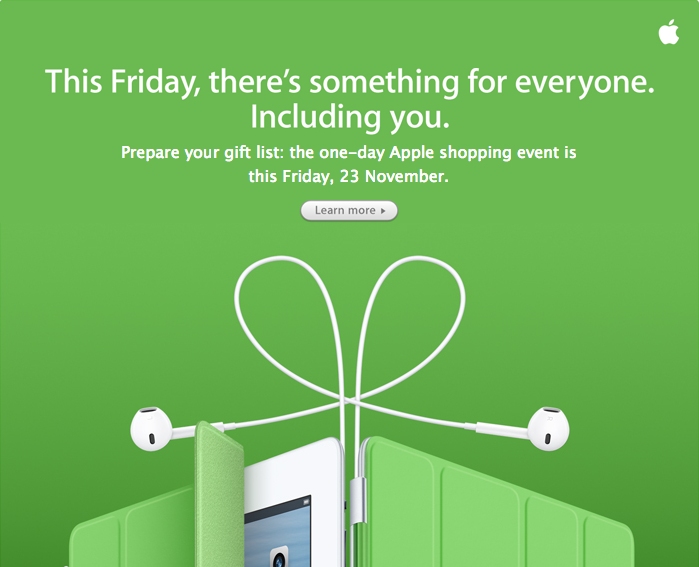 Apple has asked every one to prepare the wish list for the upcoming Friday because there's something for you as well for others. This one day Apple shopping event will take place on Friday, 23 November. The prices for the shopping event would be available on November 23 from 4:01 a.m. to 24 November, 2012, 3:59 a.m. in NZST.
You can head over to the official Website to find a perfect give for everyone on your wish list before the stock last from here. Apple has tons of things lined up for this Friday. Therefore, don't get late before the stores get empty.