The day before C.E.O of Apple, Tim Cook announced eagerly on the Q3 financial results that they would be releasing the future of OS X today on July 25, 2012, Wednesday that is today. This new version of OS X Mountain Lion would be featuring tons of new features that a person cannot wait to get. The only issue would arise will be regarding your favorite Apps. Either the Apps would be compatible or not? After the release of OS X Mountain Lion for public, every one of you would be willing to update to it and the same time you don't want to lose your precious Apps only due to non-compatibility.
Many of your favorite Apps wouldn't be compatible with the upcoming OS X Mountain Lion and you might don't know about the compatibility of the Apps. In addition, it is not hard to know about the compatibility of the Apps with OS X Mountain Lion. To save your time, RoaringApps have done the homework for you people. RoaringApps is an online portal where every App for the MAC is listed with the latest compatibility that it has. The website has tons of Apps that are and are not compatible with OS X Mountain Lion.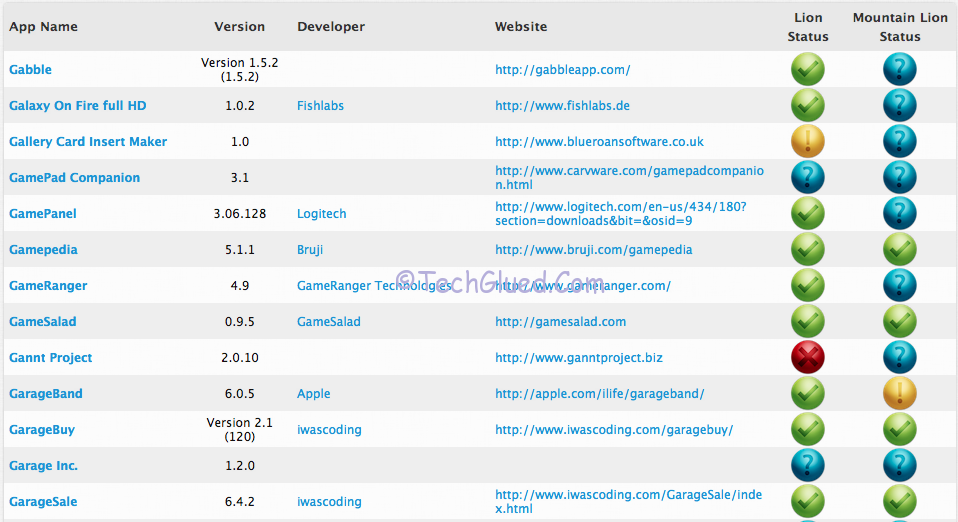 So, if you are planning for an imminent update to OS X Mountain Lion that is coming today, you really need to visit the website RoaringApps to see if your favorite App in on the list or not. RoaringApps has organized the list of Apps in alphabetical order and even they have given out a search button that will help you to find the name of the App instantly. They also got some color codes and symbols in the end of the name list that tells about the compatibility of the App. Whether the App is compatible or not or the status is unknown.
Before you go for OS X Lion, head over here to see the compatibility list of your Apps in no time. After you are done with the Apps, don't forget to prepare your self with your MAC for the OS X Mountain Lion update from here.
(9to5mac)