Samsung Galaxy S4 preorders on AT&T will start on April 16 at a price of $249.99 with a two years contract.
AT&T today on its official website announced the arrival of Samsung Galaxy S4 on its network by the end of April, where as the pre-orders for Galaxy S4 will start from April 16 by AT&T. The initial price of Pre-Orders set for Galaxy S4 by AT&T is $249.99 with a two years contract. This price of $249.99 is about $49.99 more than the cost of an iPhone 5 on contract. The high price of Galaxy S4 by AT&T might be because it is the first carrier that is going to start Samsung Galaxy S4 pre-order by April 16 exclusively.
According to AT&T's statement on its website about Galaxy S4:
Continuing our legacy as the first carrier to launch Samsung's Galaxy series, we are excited to announce AT&T customers will be able to begin pre-ordering the Galaxy S 4 beginning April 16 for $249.99 with a two-year commitment. We are proud to offer this iconic device and continue to offer our customers the best smartphone line-up, with a variety of devices for every lifestyle and budget.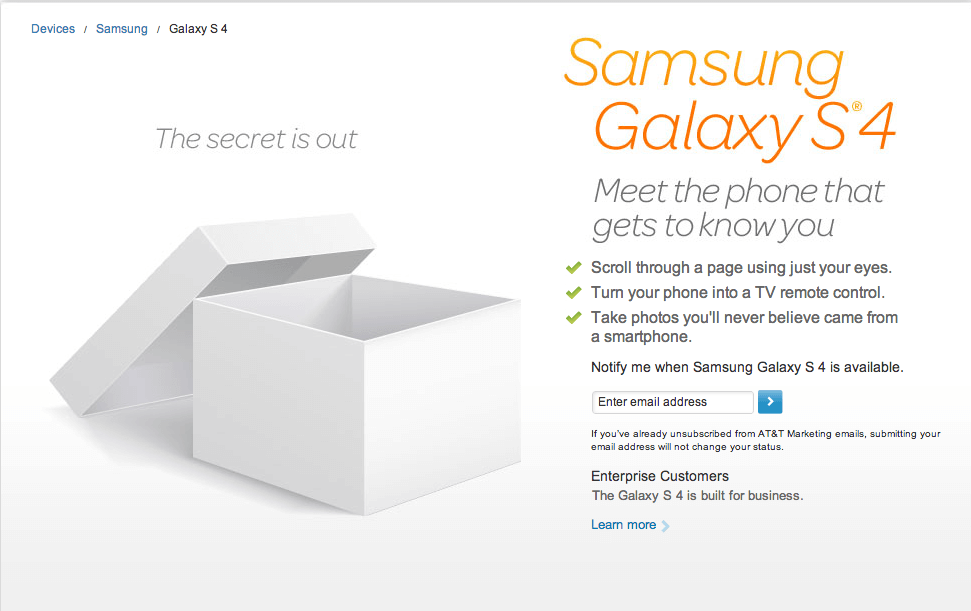 However, Samsung Galaxy S4 AT&T Preorders will start on April 14 and AT&T has made a subscription section on their website by which you will be notified when the pre-orders are live. If you want to subscribe to the mailing list, then you can visit here and subscribe for Samsung Galaxy S4 AT&T Preorders.