Samsung Pakistan Facebook Page has started to tease images of Galaxy S4 ahead of April scheduled launch by Samsung around the globe.
The month of March is about to end in few days and the month of April will be taking over in which Samsung is going to release the most awaited Galaxy S Flagship of it called Samsung Galaxy S4. Samsung took wraps of this amazing piece of smart phone on March 14 at Times Square New York and demoed almost every single feature of the smart phone. The upcoming Flagship of Galaxy S series, Galaxy S4 will be packed with Android 4.2.2, 5-inch Super HD Amoled Display, 2GB of RAM, Quad-Core Exynos or Octa processor depending on the region, and the same plastic body in different capacities. The capacities of Galaxy S4 start from 16GB and goes up to 64GB with the help of SD Card.
Other than these awesome features, the device is packed with amazing new features like Smart pause, Air View, S Voice Drive, Air Gestures, Samsung Watch On, and Home Sync. These are only few amazing features that we have listed. Samsung Galaxy is packed with new and innovative features that will be making your way in the month of April. Samsung fans are waiting anxiously for the arrival of Galaxy S4 around the globe and recently Samsung Pakistan Facebook page from Wednesday, March 28 2013 started to tease the images of Galaxy S4 along with its features to create a prodigious hype for Galaxy S4 former to its release.
Following the first image teaser of Galaxy S4 posted by Samsung Pakistan Facebook Page stated, " It's Coming. The Next Big Thing."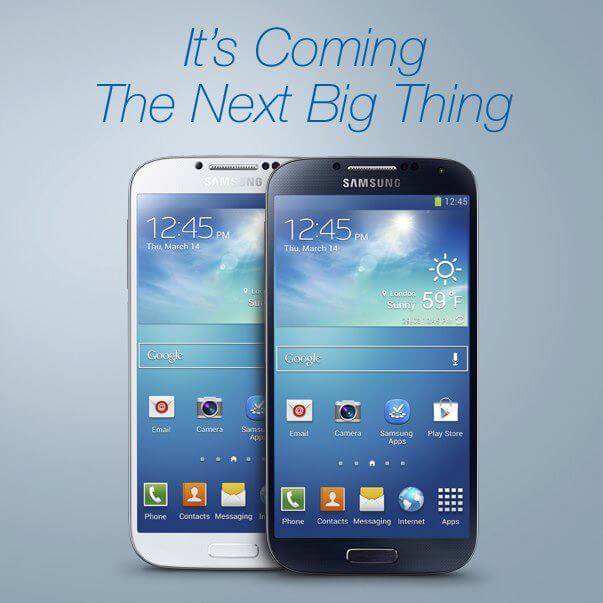 Then after few hours, Samsung Pakistan Facebook Page shared another image of Galaxy S4 that showed its features like Dual Camera picture taking and more.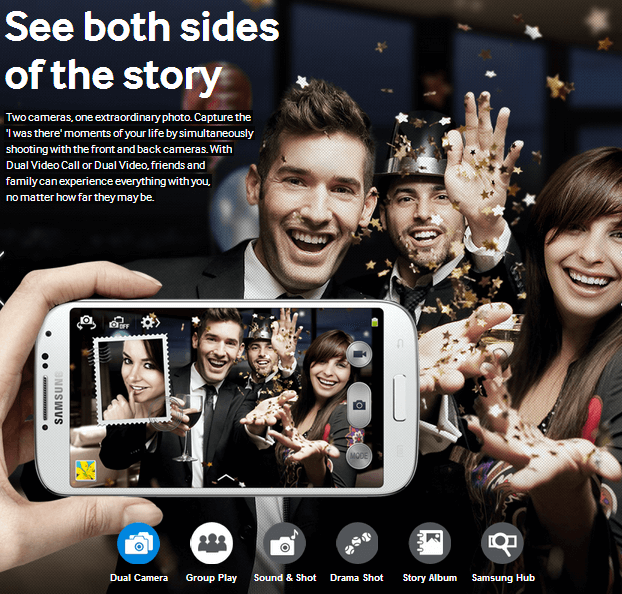 Later today, Samsung Pakistan Facebook Page continuing the hype posted another image filled with Galaxy S4 features.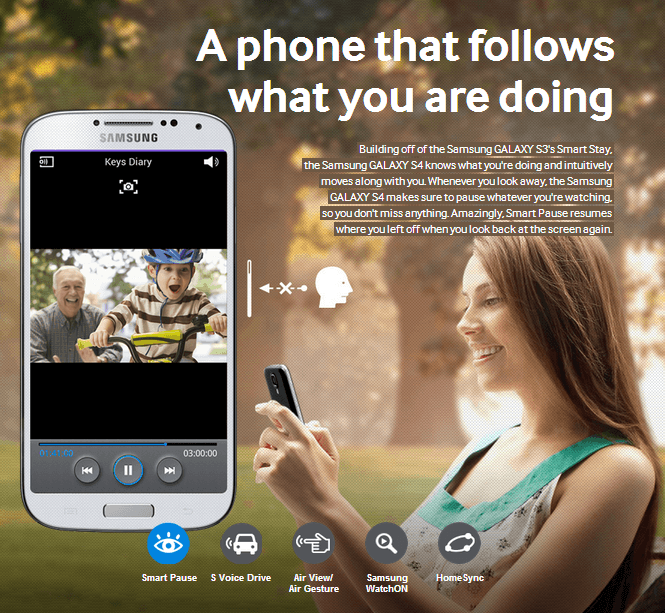 This sudden advertisement of Galaxy S4 on Samsung Pakistan Facebook Page for sure hints towards the official arrival of Galaxy S4 in Pakistan is around the corner. On the unveiling of Samsung Galaxy S4, Samsung Pakistan Facebook Page shared only one image of Galaxy S4 and then the page owners regarding Galaxy S4 shared no image or any words. As the days are enclosing by and the time for official release is near, Samsung Pakistan Facebook page has started to tease Galaxy S4 images to tease their fans.
However, we have already told you about the alleged release date and price of Galaxy S4 in Pakistan the day before over here. We are now more confident on the release date that we told you because today AT&T announced the pre-orders date on its carrier and price of Galaxy S4.