Samsung officially leaked Galaxy S4 Mini on its website confirming the device will come in four different variants. The word official might sound strange, but its true.
The leaks regarding Galaxy S4 Mini are grabbing pace. Three days back we told you about the rumor that suggested about the arrival of Galaxy S4 by Samsung is in works and the Mini Flagship will carry a 4.3-inch display with 256ppi. It was too early to believe that rumor because Samsung recently announced Galaxy S4 on its Unpacked 2013 event and the sales are yet to begin by the end of April. Moreover, the arrival of Galaxy S4 Mini in summer didn't made any sense because it would be very early for another smart phone to enter the market after the release of its major Flagship.
While people couldn't coupe up with the Galaxy S4 release date, features, and arrival of it in their country, they are now being double minded because of this Samsung Galaxy S4 Mini rumors. And hats off to Samsung who is making them double minded by leaking the Galaxy S4 Mini information officially on its website. Later today a user on Twitter shared an image taken from Samsung's official website showing four different models of the Galaxy S4 Mini in the select model section.
The first one was identified as GT-I9190 that was leaked three days before and the remaining GT-I9xxx models are unknown.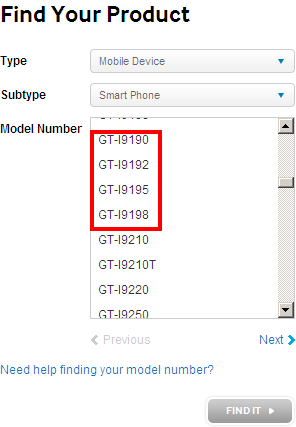 According to Sammobile, the four variants will be
GT-I9190 = HSPA+ Variant with a Quad-Core CPU
GT-I9192 = Dial-SIM HSPA+ Variant with a Dual-Core CPU
GT-I9195 = LTE Variant
GT-I9198 = China Variant
As of now, what we know about Galaxy S4 Mini is that it will be packed with Android OS 4.2.2, 4.3-inch HD Display, Dual-Core/Quad Core Processor, 1GB of RAM, LTE, Dual-SIM, and 256ppi. These all features will vary from variant to variant. Not every Galaxy S4 Mini would be equipped with Quad Core Processor.