May 3 it was, the boomed series of Galaxy by Samsung got some new entries introducing the Galaxy S III. Samsung's Galaxy S2 has been working awesome in he market competing other mobile devices by Samsung. We still remember when Galaxy S2 sold quickly worldwide the companies was tensed with the Korean company's performance in the mobile industry. The sales of Samsung Galaxy S2 reached almost with the iPhone 4's which was completely shocking for Apple but today Samsung has announced another shock-able news for the Cupertino company after making a record of 20 Million S III's sold in 100 days that's after the release of Samsung Galaxy S III.
Samsung is now getting tough on the mobile market which is dangerous rather an attack on the companies straight forward and Apple may be the first one if they release an iPhone with no new and advanced/heart throbbing feature. After outstanding Apple, Samsung will be ruling in the mobile market completely because Nokia is still down the mountain and Apple may fall straight away from the top heels.
Samsung's CEO JK Shin said
The Galaxy S III has enjoyed tremendous attention and popularity since its launch in May, and we are thrilled with its success.

I would like to express my sincere appreciation to customers who have chosen the Galaxy S III. We will never stop providing the latest smart mobile technologies to help users live a life extraordinary.
Apple still wins to dig the flagships out of the America but has to pass through a bad news in the America as except AT&T, Samsung Galaxy S III has ousted Apple iPhone 4S in Verizon Wireless, Sprint and T-Mobile as a best selling mobile device.  Analyst Michael Walkley reported about the reports achieved by the carrier companies about the best selling device from June comparing until the August of 2012.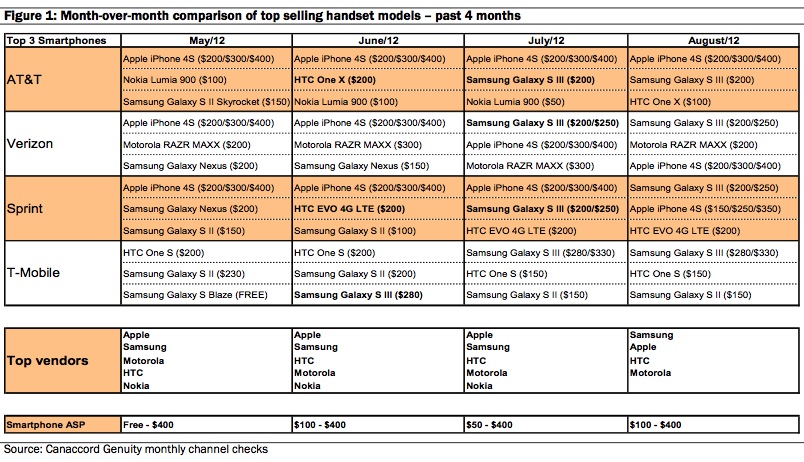 When the iPhone 4S was launched in 2011, Apple sold about four million units in just three days by making a new record that has beaten by Samsung now. The iPhone 4S was launched back in 2011 and Samsung unveiled its Galaxy S3 flagship on May 3, 2012. Therefore, the real competition is going to start when the iPhone 5 gets unveiled and Galaxy S3 sales are putted on shame, Apple we are waiting for your killer step.