Samsung Galaxy S4 Dubai Release Date and Price are now officially confirmed. Get ready Dubai to have some Samsung Galaxy S4 experience in your country.
The upcoming life companion called Samsung Galaxy S4 is ready to land in Dubai. Samsung officials have been showing off Galaxy S4 teasers via Billboard and banners in Different Malls stating the release to be made soon. However, later today on our visit to Dubai Mall, we found out that Samsung has Galaxy S4 on display and the official Samsung Galaxy S4 Release date in Dubai is also unveiled. Before we could go and test Samsung Galaxy S4, we confirmed about the release of Samsung Galaxy S4 in Dubai along with the launch price of Samsung Galaxy S4.
Upon asking about the official Samsung Galaxy S4 Release date, the officials at Samsung stall told the date of April 27 2013 that is only a day or two away from the release. Moreover, the official release price would be AED 2,500-2600.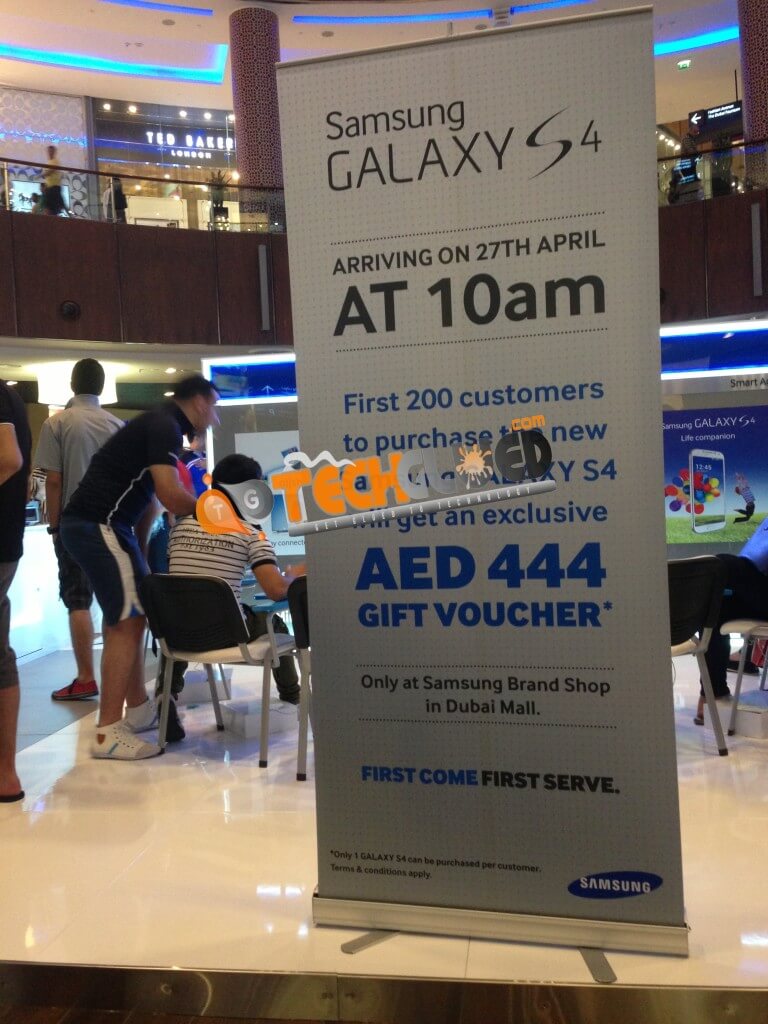 The arrival time of Samsung Galaxy S4 is scheduled for 10:00 AM GMT +4 in Dubai. Moreover, first 200 customers buying the Samsung Galaxy S4 will get AED 444 voucher. Other than this, the stall of Samsung in Dubai Mall has Samsung Galaxy S4 on Display and people can use it to experience the whole new level of technology on which Samsung has been working on.
The story doesn't ends here because we got our hands on the upcoming Samsung Galaxy S4 at Dubai Mall.
Samsung Galaxy S4 Hands on in Dubai:
The Samsung Galaxy S4 is packed with a 5-inch Full HD Super Amoled Display (1920X1080), 441ppi, 13 Megapixel auto focus rear camera, 2MP front camera, Android OS 4.2.2, and much more.
The design of the Galaxy S4 was thick than Galaxy S3 and the weight of Galaxy S4 was lighter than the Galaxy S3. We can say that Samsung decreased the weight of Galaxy S4 to compete with the iPhone 5.
Rest we tested the Air view, Air Gestures, Smart Control, and Dual Camera. Everything was working fine and the reports of lagging wasn't found by our team members in Samsung Galaxy S4.
The Samsung Galaxy S4 Dubai Release Date is now official with price and time; therefore get ready to be one of the 200 customers to avail a voucher of AED 444.