Samsung Galaxy S4 is good, but not the best smart phone. Samsung and carriers on which Galaxy S4 is introduced did this finding.
Thinking that the newly released Flagship will make a great breakthrough when released might not be wrong because the Flagship of Galaxy S series is good, but not the best to rule out the competition. It might sound strange that how can it be possible, but the tests done internally on Galaxy S4 by Samsung and different carriers came out to this conclusion. Samsung conducted the test internally by comparing the entire high-end Android Devices with each other including Galaxy S4. After the test was conducted, Samsung concluded that Galaxy S4 is a great phone to, but not the best phone.
The main reason behind concluding Galaxy S4 as a great phone, but not the best phone was the same design with same plastic body. Many telecom websites blamed Samsung for using the same plastic body material for Galaxy S4 instead of upgrading it to a better material like aluminum or steel body.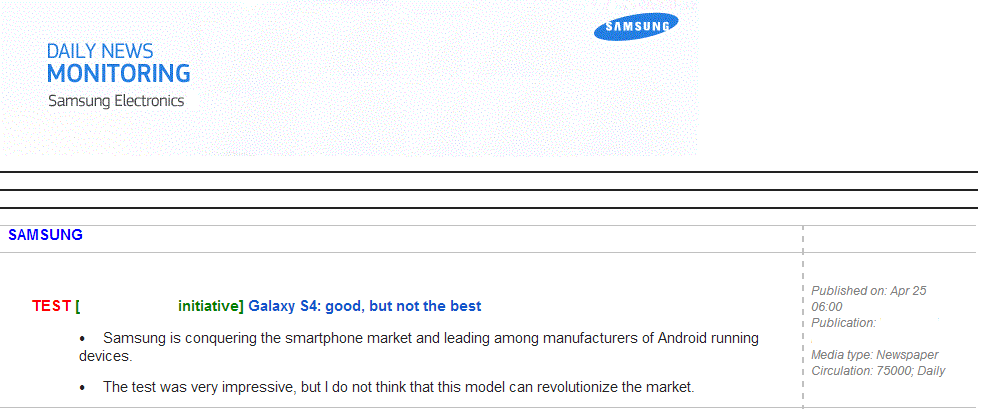 The reason that leads Telecoms say that Galaxy S4 is not the best phone was the comparison of Galaxy S4 done with Sony Xperia Z and HTC ONE.
Galaxy S4: good, but not the best
· Samsung is conquering the smartphone market and leading among manufacturers of Android running devices.
· The test was very impressive, but we do not think that this model can revolutionize the market.
The smart phones compared with Samsung Galaxy S 4 are made of Steel and hard plastic body. The HTC ONE is made of steel and Sony Xperia Z is made of hard plastic body. Therefore, the final conclusion was made that HTC ONE is the best smart phone (Ranking number 1) and Samsung Galaxy S IV ranks second in the test.