Apple is/was fighting with its rivalry companies like Google, Samsung, and HTC over design issues. The objection placed by Apple over all of these companies is that they have copied their products like iPad and iPhone. The objection might sound somewhat legit and not 100% legit because every company got different design and size for their products. However, the Cupertino Tech Giant Company thinks that every one copies their products and design. This is why they have been bringing every one in the court of design issues. No doubt, they have some of the lawsuits filed and lost some of the lawsuits. Whenever Apple has loosed, they got their iPad 2's banned or their push notification's banned.
Recently Apple had filed a lawsuit against the South-Korean Company, Samsung over the design of Samsung Galaxy Tab 10.1, 7.7, and 8.9 that they have copied the design of the iPad in U.K. Unfortunately, Apple lost the lawsuit. This time Apple's iDevice or any service isn't being banned. Can you guess what is going to be banned?
It is a three-letter word with one Vowel called A. Did you got the word. We hope you must have gotten the word.
So, this time Apple's A## is going to be on fire soon in U.K. The reason that Apple's A## is going to be fire in U.K is that the judge, Colin Birss, has told Apple to put up an annotation on their U.K Store and Website with publishing the news in the following news papers (Financial Times, the Daily Mail, Guardian Mobile magazine, and T3) For six months. The Annotation should state that:
"Samsung Electronics Co. didn't copy designs for the iPad."
The judge ordered Apple to leave the annotation for six-months on their website and U.K Store. In addition to this ruling, Apple's spokes person Alan Hely was out of words and he didn't reply to any call or E-Mail after the hearing was done by the court. Apple responded to the court over the annotation notice that "No company likes to refer to a rival on its website."
As Apple A## is on fire in U.K and they will be defending the ruling by going to the higher court, we have done some work to show you people on how the annotation would look if Apple will implement it in real on their U.K based Website.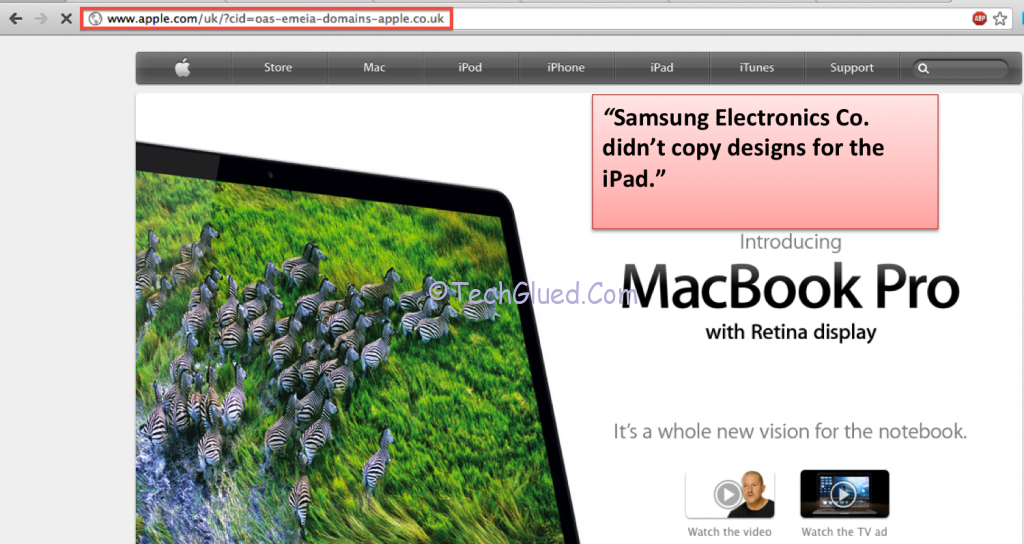 What do you think about the results of the hearing? Will Apple place the annotations on their Store or not?
Source: Bloomberg