The technology these days is moving on a great pace. If the mobile companies don't innovate their product, they are left behind in dark and the one doing innovation would be leading the market. Same thing happened with Samsung. They introduced this wireless charging feature in their Samsung Galaxy S III that will be coming this fall. When this feature was announced by Samsung, it might have looked like this is something new and innovative. The fact is that, this technology is old. This technology is old in a sense that some Battery Manufacturing company I believe, made a case for the iPhone with the this power mat sort of pad on which you placed your iPhone and the charging used to start without any wires attached to it.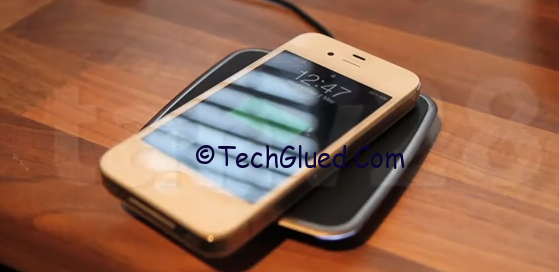 Some of you might have seen that charger for iPhone. If not, then no need to worry because what we are going to show you today is something unique and new in the market. No one would have ever imagined about this sort of thing would come in the market. We would like to show you an Advertisement of the thing at first about the thing that we are going to discuss.
Advertisement:
After seeing the ad, you might have got an idea about the thing that we are going to show you.
The thing that we are going to discuss is the new mod made to iPhone 4S that allows the iPhone to charge wirelessly. Sounds interesting aren't it. The mod is done by Tanveer Islam, who is a doctor and a Modder made his daily use iPhone 4S into a wireless charging device. This is something interesting. He simply mod his iPhone 4S with some steps that he has mentioned in his video. Before we move on to the real part, there are some precautions to be made before attempting these steps. First of all your iPhone warranty will be voided because, you would be doing some hardware changes. Second, you would need some basic tools to open an iPhone 4S. Third, you will need a soldering machine to sold out the wires. Fourth, you will need some patience, skills, and need to be brave hearten to perform these steps. We would recommend you to make a checklist before you proceed on.
If you are ready with the checklist, now we would like to show you the video of the mod made by Tanveer.
Video:
Tanveer in this video has shown all the things that you need for this mod with the steps that you need to follow. At first, he simply solders wires with the designated number of the charging port shown in the video, and then he connects those wires with the power case mat to make the connection. After doing all, make sure that you are connected to the mat. Once everything is crosschecked, then simply assemble the iPhone back as shown in the video. Don't forget that this mod increases 1mm thickness to the iPhone. So, make sure that you do everything correctly. Do at your own risk.
Every time we get new mods for iDevices from third-party or users. We haven't seen any innovative mod by Apple yet. We expect that Apple grabs some idea out of this mod and later on applies wireless charging in the upcoming iPhone 5 or in future releases of their iPhone's.
What do you people think about this mod? Is it worth it to do or not. Do let us know about your opinion's in the comments section below.