<!–
Android is too mainstreamed and if it is surely the amazing technology available to you on your phone or on any other hand device, then you must use it in a very effective way. Android is one operating system, which manages and creates applications for the ease as well as entertainment for its users.
It is widely seen throughout the world that Android is famous among people of different age groups. Android is the "Best". It was pointed out by public and the OS itself never fail to improve or it never disappoints its users.
If you are using Android as your OS system and you are a student then you must use the best available application for students. This is guaranteed that these student applications by android are effective, excellent, and will surely help you in managing your time along with learning new things.
Below are the top Five Android Apps for students, which will help them to get an A grade.
1) Advanced English and Thesaurus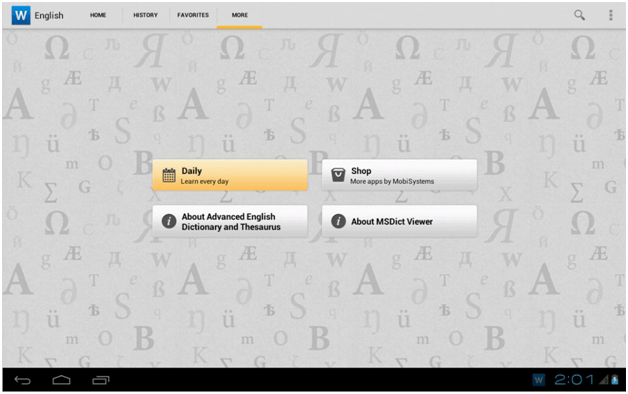 This is the new formula dictionary and thesaurus designed effectively for the help of students. The dictionary is designed by WordNet and is different from the old traditional dictionary because of its new specialized features where you can easily find a meaning of a certain word; along with their synonyms at the same time.  In this dictionary, you can find the meaning of more than 140,000 words along with their related synonyms, antonyms and homonyms. This app makes your written work a master piece.
This best app is for your help in written English.
Price: FREE
2) Dropbox

It is the specialized software which conveys and connects you with your coworkers and fellow students.  It is a specialized app which helps in sharing documents, pictures, and video. It is an android app which helps you to stay connected through sharing data with your teacher, class head and other fellow students. A 2GB space is allocated to you once you sign up the app, that your memory and space keeps increasing depending on the amount of sharing you do. The more you share the more space you get on your app automatically.
Dropbox evidently let you gather all you stuff at a precise place for you.
Price: FREE
3) WolframAlpha
It is the specialized app which can answer your entire question and fill you up with expert knowledge. The specifics of this app is its connected vast web of algorithms arranged by WolframAlpha which computes all the information from other server and gather the entire information and present it on your homescreen. It is the actual form of that famous fragment of imaginary computer from Star Trek.  The domain of this app will satisfy all your needs in every subject.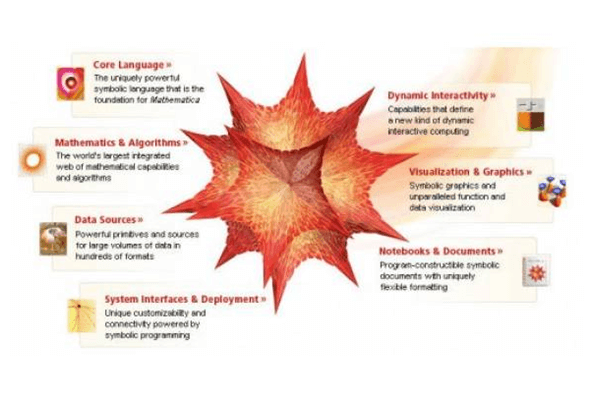 It's an effective search engine which is designed to answer your every problem
Price: $2.99

4) School Helper
It is the app used by many students around the world to manage their timetables and homework schedules. In high school you are stuffed with loads of subjects and to manage the time of every class is complicated. Hence, if you just download this app in your phone and create a timetable once in this app then you can check it wherever in your high school. Homework schedule can be managed as well the data of your test marks can be added so that in the end you have all your relevant data available on your android device.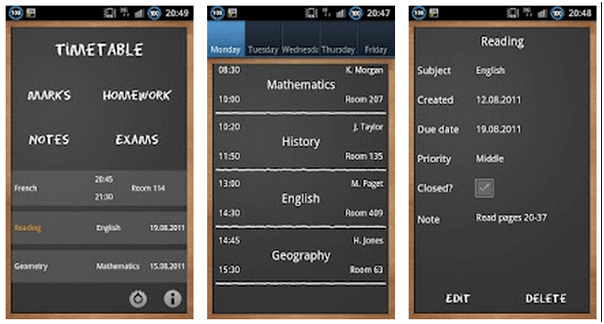 The purpose of the app is to have all your data in a place where everything is easily accessible.
Price: FREE

5) WikiDroid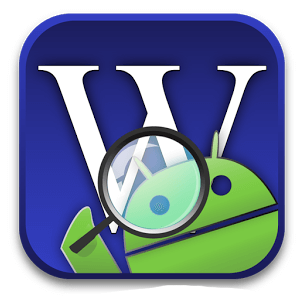 There are millions of people searching all their relevant searches from Wikipedia. Many students love Wikipedia because of the wide range of articles on every possible topic on this earth and beyond this earth. Hence WikiDroid is an app which will bring Wikipedia on your phone, and on your android device. WikiDroid arrange all the articles from Wikipedia on your Android device with a sleek interface. So now Wikipedia is available to you if you are on the go.
This app effectively supports all Wikipedia articles and all Wikipedia languages.
Price: FREE
It is very evident that these apps are amazing as well as they are best at what they are made for. Once again android has proved itself to be the best operating system in the world of technology.