The day before yesterday, Apple unleashed OS X Mountain Lion for public. The OS X Mountain Lion came out roaring with an increment sales in just few hours and becoming the most popular download in the MAC App Store. The future of OS X was priced for $19.99, the cheapest release of OS X ever. This cheapest release of OS X Mountain Lion might have won the heart of Millions, but on the other hand, it created problems for the Jailbreak Community. Keeping security in mind Apple made OS X Mountain Lion more secure than the previous builds. Making the security more tightened, they released a security tool called Gatekeeper in OS X Mountain Lion.
This security tool stops the Apps that are not released or are not from the MAC App Store to run on your MAC. To avoid this security, you need to run the App downloaded from MAC App Store or by identified Developer. So, in case of Absinthe, the OS X prompts up an error when you try to Jailbreak your iDevice stating that the App cannot be opened because it is released by an unidentified developer and the app closes.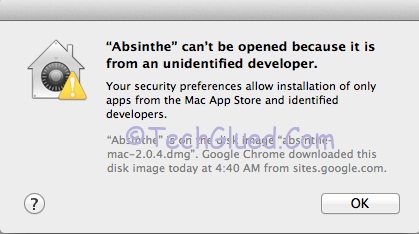 How ever, the Redsnow 0.9.14b2 version for iOS 5.1.1 Jailbreak is fully compatible with OS X Mountain Lion. All you need to do is just press Ctrl-Click-Open. To by pass the security for the first time as stated on Dev-Team Blog.
So far, we cannot say anything regarding a new release of Absinthe Tool or something related to a fix or anything. We expect to see this issue resolved in your OS X Mountain Lion, rather than a new release of Absinthe Tool for this issue.
We will update you as soon as we hear anything regarding this issue or find a fix for this.
UpdateX1:
We have posted method here to make the third party Apps work on OS X Mountain Lion. Unfortunately, Absinthe doesn't works by that Method. After our method, Absinthe only shows a popup to open the App and then it is closed.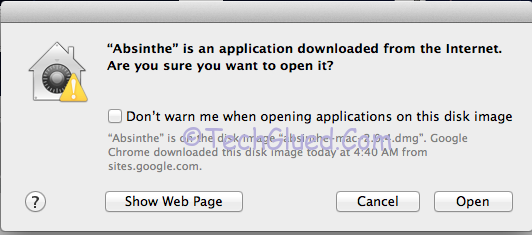 So, expect a new update to Absinthe Tool for OS X Mountain Lion only.